BY Led Black (@Led_Black)
Ok folks so this where the rubber meets the road. We have arrived at the place where it is imperative that we put all that Uptown Love we preach about into practice. Forgiving Mariela Camacho, the latest novel in the Forgiving series by local writer A.J. Sidransky is available, as of today, via Amazon, Barnes and Noble, and iTunes. You can also get your copy at our very own Word Up Books. The book is a riveting follow up to the critically acclaimed Forgiving Maximo Rothman and takes the reader on a deep dive to the skeleton-filled closets of our protagonists Detectives Gonzalvez and Kurchencko. The utterly engrossing read spans decades, continents and cultures. A.J. Sidransky sat down with us to dig in to the making of his latest novel. Please support our local artists and buy your copy ASAP.
By the way, the next Led Black Book Club will go down on Thursday, October 8th at Word Up Books (2113 Amsterdam Ave @ 165th Street) and will feature Mr. Sidransky. This is going to be a lot of fun… I hope to see you there.
Q. First of all congrats on the new book. It is an engrossing read and an incredible follow up to Maximo Rothman. How long did it take you to write the second novel?
A. Forgiving Mariela Camacho took about 18 months to write. Generally it takes me 2 1/2 years to write a new novel but since I was so familiar with the main characters for Forgiving Maximo Rothman it went more quickly.
Q. Who is Mariela Camacho?
A. Mariela Camacho is a completely fictitious character. I imagined her to represent several ideas. First and foremost she is the great romantic passion of Detective Pete Gonzalvez's life. His unrequited love for her creates a hole in his heart that he spends a lifetime trying to fill. On a more philosophical level she represents the great stress under which immigrant women live. Her quest to leave the past behind is a major factor in her unfortunate life.
Q. Your books have a real sweeping and cinematic feel. Do you write with an eye for film?
A. I definitely write with film in mind for two reasons. First that's how I think, how I envisage my work
As I create it. Second that's where the money is so yes I write to be easily adapted to screen.
Q. Fatherhood, manhood, and male camaraderie are big themes in your books. Why is that important to you?
A. I write about men because I am a man and I think men in today's society find it difficult to experience their manhood. Men need to be more in touch with their maleness the way women are to their femaleness. We need to be better fathers sons friends and husbands. It's important to me because I think we can live better lives if we are more in touch with these issues and ideas.
Q. Can you give us some insights on why Dominican and Jewish identity figures so prominently in both novels and many of your other writings?
A. Dominican and Jewish themes figure prominently in my work for several reasons. First I live in Washington heights where these communities intersect and interact. Second my uncle was a settler in Sosua where 854 Jewish refugees escaped the nazis. Third I am a jewminican. I am Jewish by birth but Dominican by choice. Kind of like the protagonist in my books Anatoly Kurchenko.
Q. Can we expect another book(s) in the series?
A. There will be at least one more and hopefully three more books in this series. Expect the next in 2017. It will answer some more of the loose ends from Maximo. It will involve a "cold case"
Q. Any final thoughts?
A. Finally thanks for all your help and support. I hope my books help both communities and help to bring our communities together.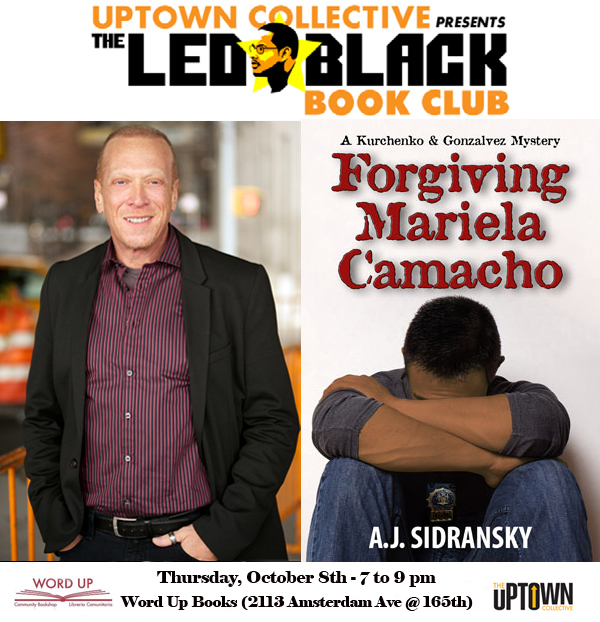 Related:
A Kurchenko and Gonzalvez Mystery: A Glint of Metal
A Kurchenko and Gonzalvez Mystery: Mother Knows Best
Stealing A Summer's Afternoon – The Review
Uptown Reads: Forgiving Maximó Rothman
Black History Month In Brief: Power Lunch
Black History Month In Brief: The Meaning of Freedom
Black History Month In Brief: The Absence of Color
BLVD Bistro – A Taste of Down South, Uptown
We invite you to subscribe to the weekly Uptown Love newsletter, like our Facebook page and follow us on Twitter, or e-mail us at [email protected].