Story and photos by Mónica Barnkow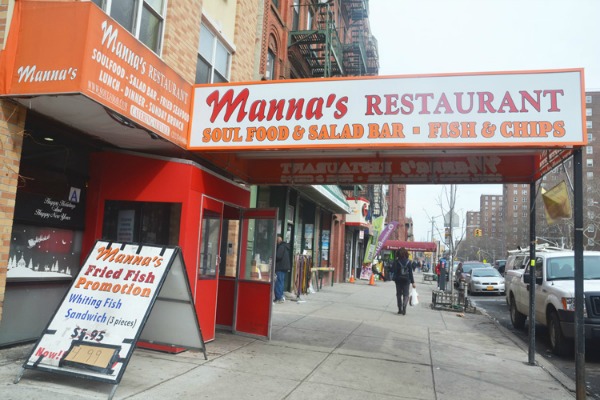 Heaven is here.
Manna's Restaurant, which was established in 1984, offers the good stuff.
The eatery at the 2331 Frederick Douglas location features a large self-serve soul food and salad bar.
It is one of 7 Manna's Restaurants throughout the city, with 4 in Harlem and 3 in Brooklyn.
The buffet's trays are filled with soul staples such as mac and cheese, collard greens, fried chicken, ribs, pig feet, candied yams, and rice and beans.
"[People] come here for the variety and the customer service," explained manager Wayne Zanders, who has worked at Manna's for 4 years.
The eatery is also a haven for vegetarians, with an abundant selection of salads, grilled vegetables and fresh pastas.
Read more: Made at Manna's | Manhattan Times
Related:
BLVD Bistro – A Taste of Down South, Uptown
Edible Manhattan: A Self-Guided Dominican Food Tour of Washington Heights & Inwood
El Lina: The Best Little Dominican Restaurant in Washington Heights
El Malecon – A Dominican Cuisine Machine
Uptown Eats: The Best Cuban Sandwich In Washington Heights…
Rusty Mackerel: Food Magic Happens Here
Noodles & Crispy Chicken At Harlem's Streetbird Rotisserie | Gothamist
LoLo's Seafood Shack in Harlem | NY Times
Testing Out Harlem's Handpulled Noodles | Gothamist
Review: South African restaurant Madiba Harlem gets 4 stars | NY Daily News
We invite you to subscribe to the weekly Uptown Love newsletter, like our Facebook page and follow us on Twitter, or e-mail us at [email protected].