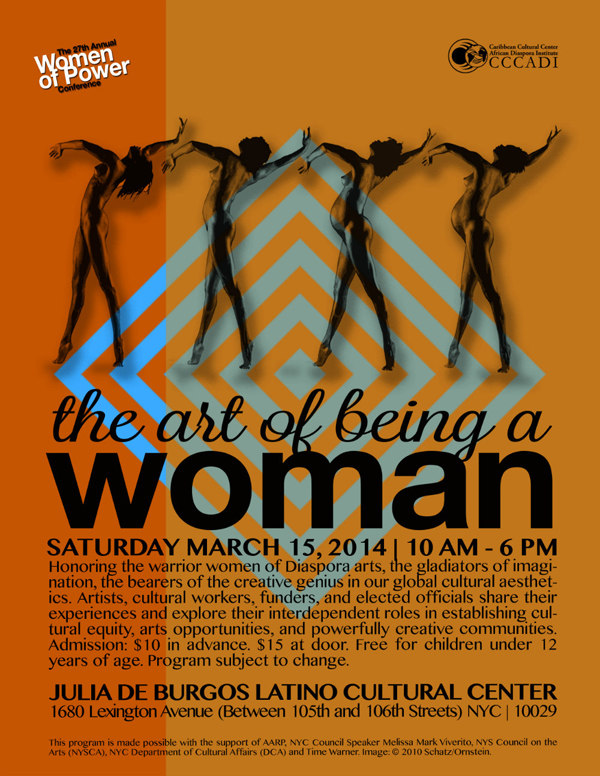 Join the Caribbean Cultural Center African Diaspora Institute in honoring and examining the experiences of a wide range of established women in the cultural arts, politics, and public service work this Saturday, March 15th, from 10AM to 7 PM at the Julia de Burgos Latino Cultural Center in East Harlem, located at 1680 Lexington Avenue, between 105th and 106th Streets.
New York City Council Speaker Melissa Mark-Viverito and New York City Councilwoman Laurie Cumbo are scheduled to speak alongside an array of inspiring and celebrated women, including internationally renowned artist, Xenobia Bailey, international performing artists Cita Rodriguez and Amma McKenn, cultural activists and artists Sabine Blaizin and Manuela Arciniegas, and many more.
"Women are creativity in motion," says Dr. Marta Moreno Vega, president and founder of CCCADI. "This year's conference highlights the multiplicity of avenues that women have incorporated to celebrate themselves and honor our communities."
For the full program, official list of speakers, and added information contact (212) 307-7420 ext. 3004 or 3008, email Regina Bultron at [email protected], or visit http://cccadi.org . Follow CCCADI on Facebook and Twitter, @CCCADI.
About the Caribbean Cultural Center African Diaspora Institute (CCCADI)
The Caribbean Cultural Center African Diaspora Institute (CCCADI) values, connects and advocates for the traditions, history, culture and advancement of the African Diaspora. Through the dual tenants of arts and advocacy, CCCADI aims to create a paradigm shift within the global community toward cultural equity and social justice via new standards, policies and language. The Center has been, and will remain, an accessible community resource, a "first voice" institution, which produces culturally-grounded, purpose-driven and activist-oriented works, while simultaneously serving as a beacon of motivation and inspiration for many.
We invite you to subscribe to the weekly Uptown Love newsletter, like our Facebook page and follow us on Twitter, or e-mail us at [email protected].