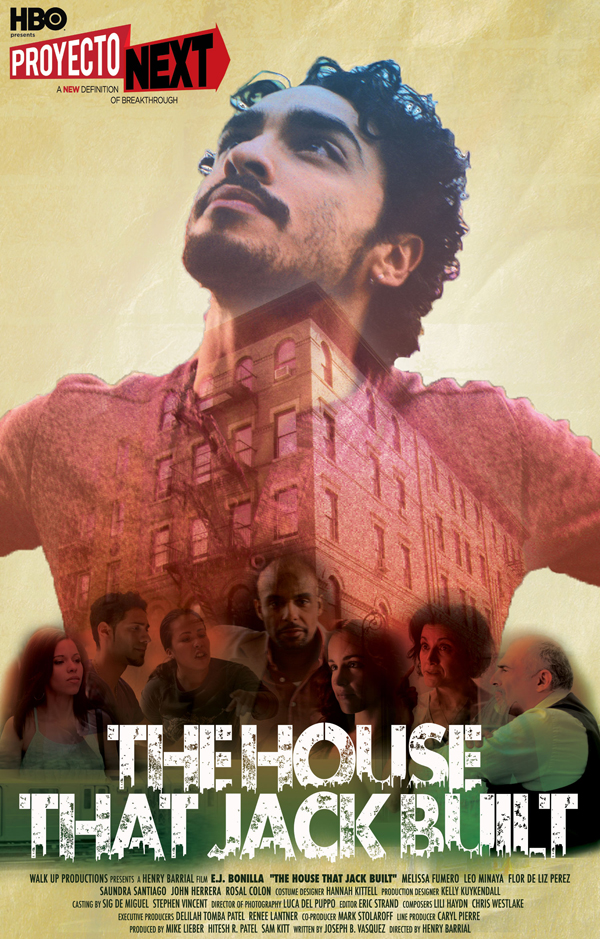 That's right people; the good folks at ProyectoNext are giving away tickets to the New York City Premiere of The House That Jack Built on Wednesday, October 2nd at 7:30 PM. It's gets better people, the tickets include an invite to the after-party at the uber awesome YOtel.
All you have to do to win a pair of tickets to the festivities is give us the correct answer to our daily question and use the hashtag #ProyectoNext on Twitter, Instagram or Facebook – you choose. That's it.
What is ProyectoNext? You say. Well. It is a new definition of breakthrough. ProyectoNEXT is an exclusive experience featuring the best of emerging film and music currently about to break on the scene.  From showcasing the most talked about indie film to the latest studio release, ProyectoNEXT promises to deliver a fresh perspective at each premiere.  It is with this approach of merging industry, audiences and social media that we seek to improve diversity in the industry by providing it with a Latino list of creative folks to develop and collaborate with.
No, wait; it gets even better, the musical artist of the month is none other than the very talented Soulstress, Camille Safiya.
Get Your Tickets: http://proyectonext.com/
About the film
"The House That Jack Built" is a new feature film directed by Henry Barrial ("Pig") and written by Joe Vasquez ("Hangin' With The Homeboys"). Shot entirely in New York City with an all-Latino cast, "Jack" is spearheading something special as it relates to Latino films.
Plot Outline
In the hope of reliving the halcyon days of his youth, Jack, an enterprising young Latino man, purchases an apartment building in the Bronx and moves his boisterous extended family in rent free, with comedic and tragic results.
Site: http://thehousethatjackbuiltmovie.com/
FB: http://facebook.com/thehousethatjackbuiltmovie
Twitter: @TheJackMovie
To find out more about Camille Safiya, check out the video below.
For more: http://theislandblues.com/
Related: #Heat: Camille Safiya X Frankie P – ISLAND BLUES | The Sonic Memoirs
We invite you to subscribe to the weekly Uptown Love newsletter, like our Facebook page and follow us on Twitter, or e-mail us at [email protected].