BY Led Black (@Led_Black)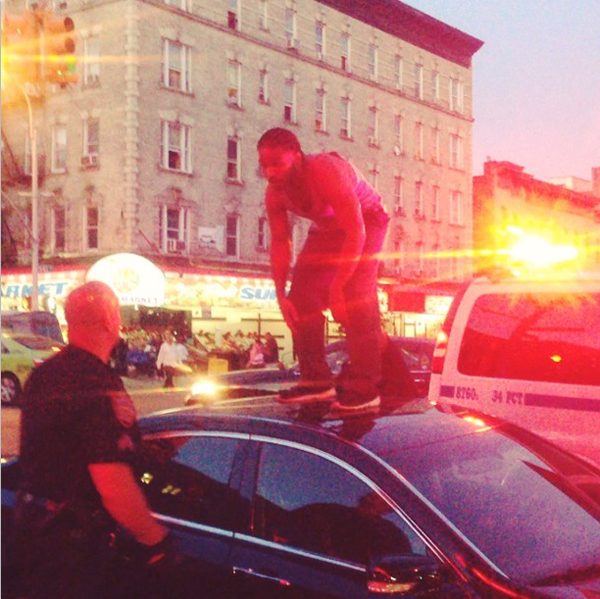 So I was coming from Chase on 181st Street on Friday night en route to get a cut at Robin Barbershop on 186th Street and St. Nick. On my way there I noticed a dude with cornrows standing on top of a car in front of the Lucky Seven restaurant on 183rd and St. Nick. Yes, you read that right he was STANDING on top of the car. If this weren't Washington Heights, a dude STANDING on top of a car would probably be a big deal but it was the Heights so I just kept it moving like it was an everyday thing. It wasn't until I noticed that the cops were about to enter the equation, that I doubled back to get a front row seat to the fireworks.
It was about to go down and being Dominican and a Heights native, I simply could not resist the urge to spectate. So this is basically how it went down. The 2 cops tell the dude STANDING on top of the car to get down. Homeboy, who must have been dusted, asks the cops very of matter-of-factly, "Why do I have to get down?" Really, dude you are STANDING on top of a car. Then, get this, he asked the cops, "What are you going to do to me if I don't get down." Okay then, things are about to get interesting, time to get this on Instagram.
Next thing you know, the cop on the sidewalk hits the guy on the car with his nightstick and the other cop takes him down from the other side.
It was all over just like that… See the video below.
Check out:
#InstagramUptown: The Place Where the Sidewalk Ends…
#InstagramUptown: #nyc #inwood #subway #love #affair #friends
#InstagramUptown: One Man's Paint Spill Is Another Man's Canvas #inwood
We invite you to subscribe to the weekly Uptown Love newsletter, like our Facebook page and follow us on Twitter, or e-mail us at [email protected].