Ohene Cornelius – A movement and a force all on his own
BY Jenni Ruiza (@RuizaJenni)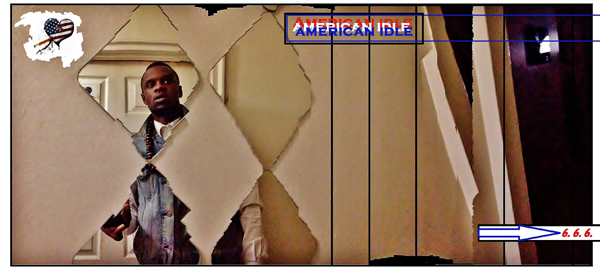 The Boogie Down is known for revolutionary artists in Hip-Hop – but think about the most recent artists who've come from the Bronx and changed the face of music: Fat Joe, Swizz Beatz, Slick Rick, KRS One, Mary J. Blige. It's not until recently has the borough started to pick back up again with its birthing of unique artists the way it used to. Ohene Cornelius, a movement and force, proves that nontraditional style and a strong building of one's brand is all you need to get a little attention. With his signature experimental sounds and work [also an actor and writer], Cornelius is working on the debut of his album, "American Idle", due June 6th.
Q. What part of the Bronx are you from?
A. I was born in Harlem, but grew up for a large amount of my time on Cypress Ave.
Q. When did you first realize you were meant to be an artist?
A. Meant to be an artist is a loaded statement. I am an artist. I don't know if I was meant to be one. That gets into issues of destiny and fate, and for me, each person has, on a basic level, control over their destiny. I've made an active choice as an adult to stay in the arts, through the thick and thin.
I want my purpose in life to be an adjunct result of my commitment to the arts community at large. Some people have an amazing talent to do things and don't pursue it. Were they any less meant to be an artist than me, no, but I am an artist because I choose to live through my creative work.
Q. Describe your art – both acting and music.
A. My acting is open. I'm about being transparent in whatever role I'm cast in. I'm terrible at auditions, this much I know. I'm great at recreating a moment, I have amazing comedic timing and I'm interesting to look at being still. I feel my acting can be described as truthful living, even in absurd circumstances. I use my knowledge for obscure facts and my high propensity for words and syllables to my advantage. And I'm all about fun on stage and in front of camera.
Musically I am the same acting wise, transparent, comedic and interesting to look at. I feel acting many times is music, it's about beats, timing, and reactions. The only thing with my music is I make my best attempt at having my own voice. In acting I can slip away in the writer's voice and perspective and sounds of the character, but in music I am the character, I am the writer, so I am telling the story. The story I want to tell is one that is of truth/lies, valor/cowardice, triumph, failure… the polar opposites, because somewhere in the middle of those opposites is me.
Q. Do you feel that the Bronx is making strides in the music and entertainment industries? What do you think will make it a greater presence with artists?
A. The Bronx has had already a large impact on the music industry. We think of Hip Hop, Jenny from the Block to indie artists today that rep the BX. The Bronx will have a greater presence with artists when there is a scene for the arts. When there are artists' lofts. When there are local festivals that promote globally and pay. When the government subsidizes festivals for artists to perform and be relevant in their own town. Right now the only relevancy the Bronx has is its history and the artists that have risen from the area, but there's no scene. There are a limited number of lounges, art galleries, and open spaces, and the one's that are there are usually priced out of the range of the indie artist, geared to specific audiences which marginalize the artists of the community [i.e. a recent venue told me they didn't want to do hip hop because the crowds get rowdy]… Being in the Bronx and not catering to hip-hop is like being in Mecca and not catering to Muslims.
Q. What sets you apart from what's currently out there?
A. I call myself the Steve Jobs of music. The Frederick Douglass of Rap. I am an innovator with technology; the people whom I work with are usually smarter than me and in a different circle, I serve the purpose of the community without having to be the center of attention, but still know when to take the center stage and be apart of the happenings. I've spent the first years of my career, just getting my talent in order. I know I'm not a child protégé so, I don't act like I know everything. I listen and speak with dignity and want to see the world changed for the better. And that is the forefront of my mission statement. Some artists want change, but are not willing to move or speak about it in a public venue. I'm not afraid to be silly, incorrect, straight to the point, or foul-mouthed. I feel if they blended the genes of Eddie Murphy and Will Smith and that person had a baby with Chuck Berry and Madame CJ's Walker baby, that would be me.
Q. If you could change the focus of the arts in the Bronx, what would you do specifically?
A. If I could change the focus of the Bronx arts community, I would create more festivals sponsored by legit venues and brands and start to bring in local and national acts to perform. I would create more arts grants for older people wanting to learn about the present technology. I would do a meet and greet program between indie filmmakers and governmental officials [in the past we've understood that who you are attached to in trying and successful political times has a direct effect on your success rate and following]. I would create low income/free housing lofts for artists, and they'd have to produce a certain amount of work and present to do so, so there is already a built in audience.
Q: Any final words for Uptown Collective readers? This is a great place to promote your upcoming shows!
A. Ohene Cornelius is currently working on an ALBUM "AMERICAN IDLE" due out 6.6.6. (June 6th 2013)  Click here to Tweet your support for #AmericanIdle http://clicktotweet.com/lp9u1.
Ohene's next show is MAY 24th @ Public Assembly. The facebook invitation is here: https://www.facebook.com/events/614568325237822.
Ohene also asks for your support by voting for him as your suggested artist for the AfroPunk Battle of the Bands: http://offerpop.com/FacebookContestEntry.psp?c=359010&u=18152&a=255558194495800&p=47016231622&rest=0&id=1497044&rest2=0.
Find out more about Bronx contributor, Jenni Ruiza, at http://www.jenniruiza.com/. Follow her on Twitter @RuizaJenni.
Related:
The Best of the Boogie Down: Ceetay
The Best of the Boogie Down: The Kingsbridge National Ice Center (KNIC)
The Best of the Boogie Down: Artist Spotlight – Sofia Rodriguez
The Best of the Boogie Down: Artist Spotlight – Hezues R
The Best of the Boogie Down: Artist Spotlight – Christopher Estrada
The Best of the Boogie Down: Tosca Café
The Best of the Boogie Down: The Bronx Documentary Center
The Best of the Boogie Down: The Bronx Beer Hall
The Best of the Boogie Down: Artist Spotlight – Jesenia
The Best of the Boogie Down: Raine Lounge
Introducing The Best of the Boogie Down
We invite you to subscribe to the Uptown Love newsletter, like our Facebook page and follow us on Twitter, or e-mail us at UptownCollective@gmail.com.