Jesenia: Trailblazing with Comedic Gold
BY Jenni Ruiza (@RuizaJenni)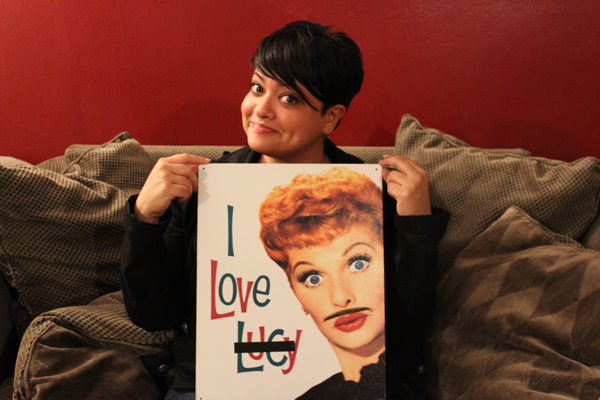 She was holding a John Belushi book and wearing a shirt that said "Freestyle" with a funky short haircut. These three minor things gave me a brief insight on who this woman was: funny, fresh, and free-spirited. My first exposure to Jesenia was pure fate. With a one-named moniker, she blew me away with her views on Latinas in comedy – where are they? Oh, right – there are none! (Well, not 100% true but really, give me some names. I'll buy you a drink if you can list 5 successful and current Latina comedians!) Jesenia has been in the comedy scene since 2007, performing standup and killing comedic roles in several theatrical performances. In 2009, she created, produced, and wrote her own sketch comedy show called, "AY QUE FUNNY", which played around NYC at venues such as the Nuyorican Poets Cafe and the Broadway Comedy Club. In 2012, Jesenia then moved on to form her first improv troupe which continues to perform all over the city suitably known as, "The Locomotives". With her continuing to blaze her own trail for not only herself, but the Latino community collectively, this spitfire is one you want to get to know now before she inevitably takes over your flat and silver screens.
Jesenia is a true triple (quadruple, really) threat! She acts, writes, produces – all the while being a full-time mom with a 9-5. Oh, and she can sing, too! Sit back, relax, and grab a cafecito and as you get to know the insanely talented Jesenia.
Q. What part of the Bronx are you from?
A. Well, I've moved around a lot. Started out on the Grand Concourse, then lived in the Castle Hill area – 1643 Parker Street, baby! Now, I live in the Pelham Parkway area.
Q. Where did your passion for comedy derive from?
A. Honestly, I can say it came from my family. We're all very dramatic and very humorous. When we lived on Parker Street, my mother, brother and I lived on the top floor of a 4 family building that was owned by my very "old-school" grandparents. The rest of the apartments were occupied by three of my mother's brothers, so as you can imagine – WE HAD DRAMA on the daily! But, in between the punches, we had a lot of laughs. Being raised around mostly men – I quickly learned how to throw a punch and then laugh and joke about it 5 minutes later. We loved and laughed hard – that's where I get my comedy from – MI FAMILIA – ROLON!
Q. Tell us about the projects you're working on?
A. Currently, my main project is "BECOMING RICARDO". It's a WebTV sitcom that I'll be filming 9 episodes for this year for the internet. It's the Latina perspective of the movie "Tootsie" – just a girl version. Where a struggling actress becomes desperate to land the role of a life time, by dressing up as a Man! It also incorporates the "Lucy and Ethel" partner-in-crime feel with the Jesenia and Sonia Characters, as they constantly get themselves in to a heap of trouble, but get out easy because it's a TV show. It stars myself as Jesenia Cruz and her male alter-ego Ricardo Montalban. It also stars Lisa Velez-Mello (aka: Lisa Lisa, of the cult jam) who plays my mom in the series and up-and-coming actress Sofia Rodriguez, who plays my crazy cousin Sonia.
Q. "Becoming Ricardo" is primarily filmed in The Bronx. Tell us about your choice to keep filming and production housed in this borough.
A. I just feel like the Bronx gets such a bad rap in TV and Film, so keeping most of the production in the Bronx is very important to me because I'd like to show people that it's not all muggings and killings here – it's beautiful and wonderful too!
Q. Describe the process to your creations. How do you best work – how do you choose those in your team?
A. Like a lot of artists – I work best under pressure. But mainly, most of my works come from the inspiration of something or someone. I'm not really influenced too much by the mainstream media, in fact I could care less about what's popular. As a comedian, I just write what effects me and my life and if people can relate to it – AWESOME!
I pick my team very easily – whoever can understand and respect my art and me as an artistic creator – are those that I can work with. Don't get me wrong, I am open to suggestions, but at the end of the day – if it's my project we're working on, then I definitely have to work with people who are okay with me having the final say. Pretty simple I think. I would do it for anyone else's project I work on – the boss is the boss and I respect every single boss because it's hard work.
Q. Some have described you as the Latina Lucille Ball or the female Jackie Gleason. How does that make you feel?
A. That makes me feel very very honored! I grew up watching every single one of their re-runs and I still do! So to be compared to them is an awesome feeling! It makes me feel like I am moving in the right direction. I love both of them for their amazing comedy talent – especially their physical comedy, and for the fact that they both created their own thing! They had big ideas and big dreams – and they chose not to wait on anyone to accomplish them for them – they did it for themselves! They are truly my inspiration with every step I take in this industry. The more TV auditions I go on and the more I do not get cast – the harder I work on doing it myself!
Q. What is your ultimate goal in your career?
A. Definitely to be on TV. Ultimately, I'd like to have my own sitcom and/or sketch comedy show. I'd love to do something Urban, like "In Living Color", showcasing new sketch comedy talent with black and brown faces! Sketch comedy is definitely a passion of mine and I hope to make it a money maker some day, but for now – I do it for the love of it, because it feels so damn good!
Q. Is there anything else you'd like Uptown Collective and its readers to know about you?
A. I'm single and ready to mingle! Really. Call me! Also, I'm really into world peace, I love Obama, sex on rooftops, sunflowers and anything that smells like soap and/or fabric softener.
Find more information on Jesenia at www.jeseniacomedy.com and more info on her webTV series, Becoming Ricardo, at www.becomingricardo.com.
Find out more about Bronx contributor, Jenni Ruiza, at http://www.jenniruiza.com/. Follow her on Twitter@RuizaJenni.
We invite you to subscribe to the Uptown Love newsletter, like our Facebook page and follow us on Twitter, or e-mail us at UptownCollective@gmail.com.