BY Led Black (@Led_Black)
Photography by Paul Lomax (@PaulLomaxPhoto)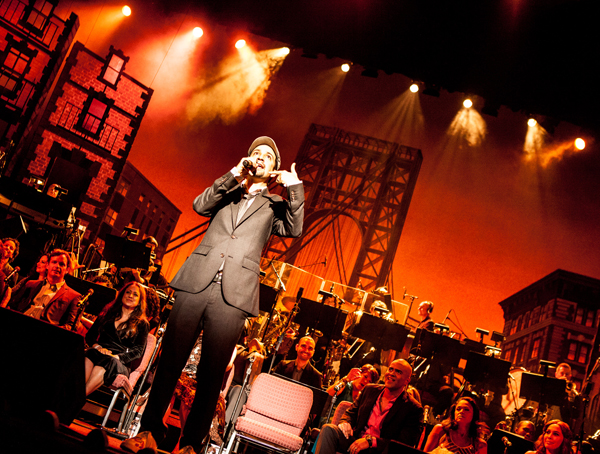 There is truly no place like home.
On Monday, February 11th the Tony Award-winning musical, In The Heights, came home for a one-night only performance on the 5-year anniversary of its Broadway debut. In The Heights put our neighborhood on the map all those years ago and here it was, actually playing in our community with the original cast members as the icing on the proverbial cake. It was pure magic. The audience and the performers sang together, laughed together and even cried together. This was family.
Before the show started, the father of Lin-Manuel and quite the wit himself, Luis Miranda, told the gathered throngs the genesis of this special night. I would be remiss if I didn't mention that this was a packed to capacity event. And then it was on. You can tell from every note and every line, the reverence that the performers had for the occasion. The audience reciprocated with vigor and love, singing along and laughing at every quip. Again, this was family.
More than a musical, In The Heights, was for many of us, the first time that we saw our neighborhood being appreciated by others. It was ahead of its time. In The Heights shouted, sang and danced its way into the hearts and minds of the world and it brought our hood along for the ride. Fast-forward to the present day and In The Heights comes full circle and was performed in the Heights. This night was proof positive that the Uptown Renaissance is alive, active and growing stronger, broader and more resilient by the day. Hometown hero, Lin-Manuel Miranda, was so visibly moved by the moment that he held back tears. Epic is a word that is so misused these days but one that is quite fitting in this circumstance. This was a homecoming like no other and one that the cast, crew and community will remember for a long time to come.
Related:
The significance of "In the Heights" at the United Palace
The Alexander Hamilton Mixtape
Reviving Motion Pictures At The Palace
We invite you to subscribe to the Uptown Love newsletter, like our Facebook page and follow us on Twitter, or e-mail us at [email protected].