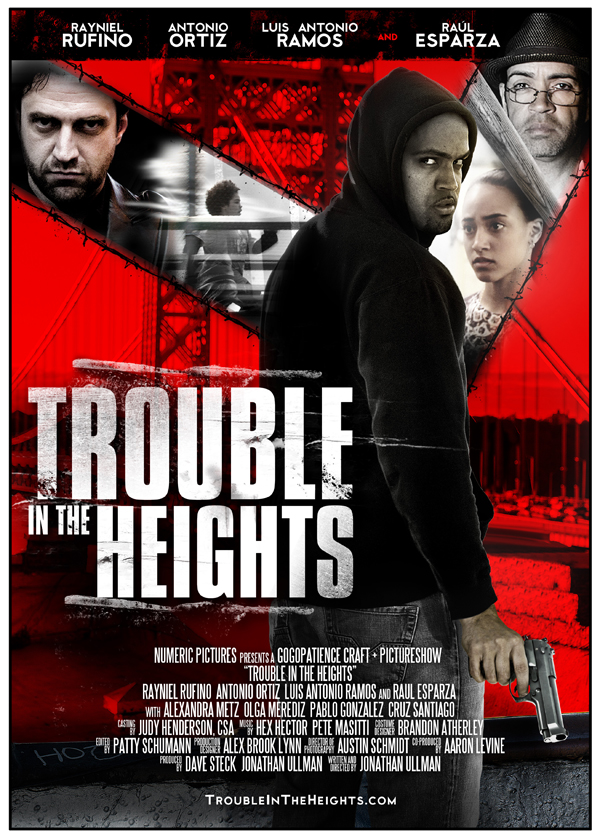 gogoPatience c+p and Numeric Pictures have officially announced the date and location for the premiere of the much-talked-about independent feature film Trouble In The Heights! On Thursday, January 24th the United Palace (4140 Broadway at W. 175th street) will premiere Trouble In The Heights at 7:30pm (Doors open at 7).
The dramatic thriller – driven by strong performances from a Latino cast drawn from Broadway, film and television – was directed by Jonathan Ullman and produced by Dave Steck. The film is set in our beloved Washington Heights. Uptown's own Rayniel Rufino puts in a stellar performance as the film's protagonist.
The film is being distributed by VIVA Pictures and will begin its roll out on Video on Demand, Pay Per View and outlets such as Redbox, iTunes, Blockbuster and more on January 22nd.
The event is free but RSVP only – no exceptions.
RSVP: [email protected]
FB Event Page: http://facebook.com/events/TroubleInTheHeights@UnitedPalace
FB: http://facebook.com/TroubleInTheHeights
Twitter: @TroubleHeights
Instagram: http://instagram.com/troubleheights
We invite you to subscribe to the Uptown Love newsletter, like our Facebook page and follow us on Twitter, or e-mail us at [email protected].