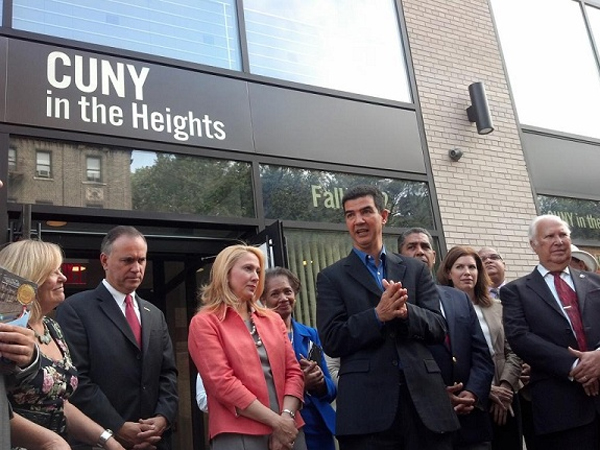 This past Saturday, NYC Council Member Ydanis Rodriguez, NYS Senator Adriano Espaillat, NYS Assembly Woman Elect Gabriela Rosa and CUNY celebrated the opening of the brand new, state of the art building, set to house the CUNY in the Heights program. This program is a resource for students looking to continue their education, acquire professional certifications and skills and obtain credits outside of a degree program.
CUNY in the Heights, administered by Hostos Community College and the Borough of Manhattan Community College, has a 15-year lease for 15,000 square feet at the mixed-use, 370,000-square-foot building bounded by Broadway, West 214th Street, Tenth Avenue and West 213th Street. The program was designed to serve the northern Manhattan and South Bronx communities that have a strong working class and-predominantly Latino-immigrant presence.
Funding for the new building was secured by Council Member Rodriguez who provided $2 million and Senator Espaillat who provided $2.7 million. The program was in dire need of a new building due to the current building not meeting the requirements of the Americans with Disabilities Act, not having central air conditioning to provide summer classes and not having state of the art classrooms. In the new building, all classrooms are on the first floor, complete with central air and smart classrooms to provide the latest technologies to the 3,500 students who take classes annually at this location. The new building is open for classes this semester and marks its permanent place in the community of northern Manhattan.
For more: http://hostos.cuny.edu/contedu/wheights/
Related: The Importance of Diversity in Higher Education Leadership
We invite you to subscribe to the Uptown Love newsletter, like our Facebook page and follow us on Twitter, or e-mail us at [email protected].