BY Dominican Pie (@DominicanPie)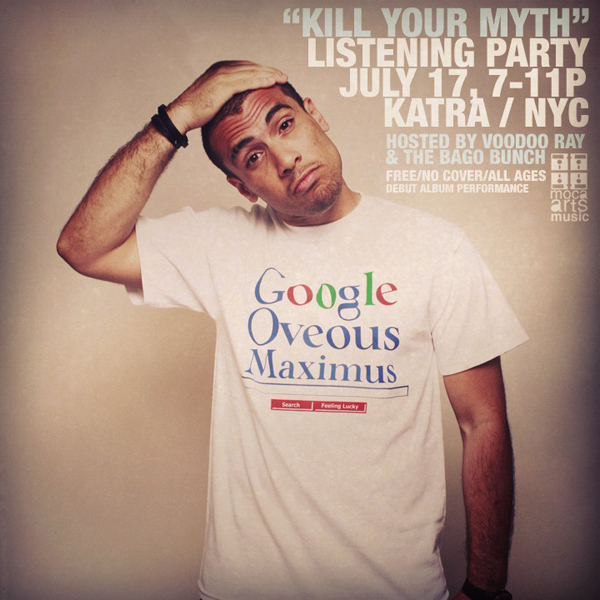 Oveous Maximus is a Dominican rapper, music producer, and a popular poet who spent a great deal of his childhood in Washington Heights. His father still resides in the neighborhood, and he himself, can be found at the various events taking place throughout Washington Heights and Inwood. You may have seen him walking down the street and not know it. At first sight, one wouldn't think Oveous was a rapper. He is laid back and unassuming by nature. With some quirky ticks, all are quite endearing, but instantly disappear as soon as he begins to perform, or begins to talk about music.
The multi-disciplinary artist doesn't want to be known as just a poet, he doesn't see himself as just that. After getting a rare chance to listen to his long-awaited debut album KYM: Kill Your Myth, it may be safe to say that no one will think of him as just a poet again. Though his lyrical prowess must be in part due to the time that he spent honing his skills in the spoken word scene. But don't get it twist it, he still has those club bangers, for when all you want to do is shake your booty and have some fun. As for the album I have to say it is refreshing to hear something in rap that's for the grown and sexy.
 "Hip-hop is the greatest shit ever . . . ever!"

— Oveous Maximus
Q. Was writing and storytelling part of your upbringing and household?
A. It wasn't but I found years later that there's some musicians in my family. My uncle Tarillo, my dad's half-brother, he was in a trio, he had a band, him and two other guys and they use to sing love ballads playing guitars. So my uncle Tarillo was a musician, awesome guy, a beautiful spirit, love that man. I see a lot myself in him, I see a lot of him in me. We have a lot of the same personality traits me and my uncle. My dad is a very musical dude too, he's got a great ear for music. Me and my dad always talk about music. We always listen to Fania All Stars. We listen to music and songs and we could have a conversation about how music breaks down, even the composition of a song, like something from Pedro Navaja. So my dad understands music and he's got a good ear for it.
Q. What do you hope to achieve in your career?
A. Hopefully I still got another a decade or two in me to create art. Hopefully, within the next ten to fifteen years I can have a body of work that people will be like yo this dude is crazy.
Q. Why Hip-Hop, why not R&B, Rock, or some other genre of music?
A. Because it's the music that makes me feel alive, it's the music I'm most connected to. It just does something, you know, Hip-Hop and house are my favorite genres of music right now. There's something about those drums and those melodies that come together. There's so many possibilities. It's like endless possibilities. You can put a drum with a piano, with a horn, with a baseline, and add vocals. You could mix it all together, and use synthesizers. It's infinite possibilities. That's why Hip-Hop is still here. That's why Rock is suffering because it's just guitar and drums. How many times you gonna flip guitar and drums, you know what I'm saying. But with Hip-Hop it can be guitar and anything. Sorry to say it but it's just the truth; Rock is limited, Hip-Hop is unlimited. That's what I love about Hip-Hop, and for an artist that's a dream. Where you can have a creative outlet and the sound can change dramatically. Look at what RZA did, he sampled kung-fu flicks in his music. Black Moon, Guru, Us3, Tribe Called Quest sampling Jazz. Artists like Kanye merging electronic and pop music into Hip-Hop. That's amazing, that's ridiculous. Hip-hop is the greatest shit ever, ever, put that shit down, with two evers.
Q. What are some of the artists that you hope to emulate or be compared to one day?
A. I would say Nirvana, although they are American Rock, it's soulful rock, almost and I really stress almost, on a Hip-Hop tip. I remember chilling in Boston with the owner of the Source magazine. We were sitting in a room filled with thugged out cats listening to Lithium from Nirvana. They were the bridge between Grunge Rock and Hip-Hop Soul. The dynamics in their music is ridiculous. Bob Marley is also a huge inspiration. As for artists today of course Kanye he's an inspiration; he's so creative. Nas, Biggie they have that kind of legacy that everybody wants. In the Jazz sector I would say Freddie Hubbard was my favorite trumpet player, he has a song called "Red Clay" which is ridiculous. The Doors were an ill band. Jim Morrison was a fucking poet man, he studied poets and was inspired to write songs from reading poetry. I respect his whole approach. As my process was kind of the same; my poetry helped me write better music.
Q. You mentioned listening to the Fania All Stars with your dad, what other types of Latino music did you grow up listening to?
A. My favorite Merenguero was Johnny Ventura, El Caballo Negro. His voice . . . his songs . . . they use to come on in the house parties when we were just kids and it was the bomb. I remember listening to him on cassettes. His voice was great and I just love the arrangements of his songs as well. Wilfrido Vargas that's another motherfucker that was ill, my favorite Merengue is "Oye, Abres Tus Ojos." I love that 1980's Merengue, I can't fuck with the Merengue of today. For Bomba y Plena, I love Rafael Cepeda and Los Hermanos Cepeda they were amazing.
Q. The name of your album is KYM, what does it stand for?
A. KYM, stands for Kill Your Myth, basically we all have misconceptions, myths about each other and ourselves that we need to get over and move past so we can live happier lives.
Q. What do you hope listeners will get out of your album?
A. I hope that that they will not want to skip a single song. That they will all find something that they can relate to. I hope that they will come and take a listen for themselves at my album release party on Tuesday, July 17 at Katra in NYC from 7:00 pm to 11:00 pm.
Tuesday, July 17, 2012
From 6 pm to 10 pm
Katra Lounge
217 Bowery St.
(bet. Prince & Spring St.)
F train to Second Ave ||| M train to Bowery ||| 6 train to Spring St.
For more info: http://MocaArts.com
Check out:
Painting Beauty in the Everyday
A Picture is Worth A Thousand Words: 7 Questions With Ben Ferrari
We invite you to like our Facebook page and follow us on Twitter, or e-mail us at [email protected].