BY Dominican Pie (@DominicanPie)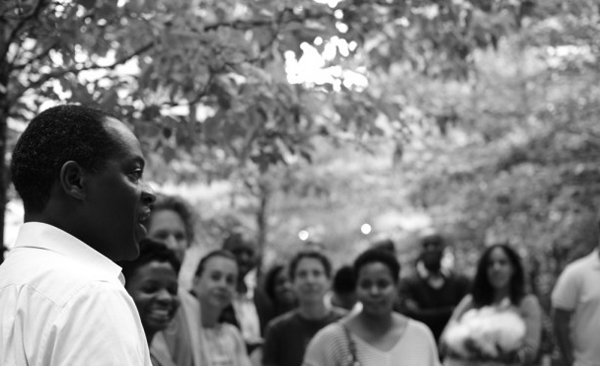 Today is June 26, 2012 and the day for the Democratic Primary for the Congressional race of the newly formed 13th District, which stretches from El Barrio to West Harlem, to Washington Heights, Inwood, and the northwest Bronx. The race has been a heated one, with every candidate dedicating a lot of time and attention to connect with the residents in this District. What follows is an interview with Clyde Williams one of the candidate's in today's election.
Q. Why are you running to be the representative of the 13th District in Congress?
A. I am running because there are decades-old problems that need to be addressed. Unemployment in this community is unacceptably high, more than twice the national average for Black and Latino males. When people don't have jobs and don't have the ability to provide for their families it has a profound impact on how they see themselves and their community. I think we can do better with fresh ideas and energetic leadership.
Q. The newly zoned 13th District is quite diverse, covering neighborhoods from east to west Harlem and parts of the Bronx, what are your plans to improve these neighborhoods?
A. The diversity of this district is its strength. But as I have traveled the district, I have been struck by the commonality of the concerns voters share with me. I speak to people every single day all across the District; business owners, young people, seniors, new residents, long-time residents. They all want similar things. No matter where you live in the District you want to be able to raise a family, send your kids to good schools, live in a safe, affordable environment and have a decent job. My platform document www.clyde2012.com outlines my specific agenda and ideas to address these concerns.
Q. With all of the real estate development occurring throughout the 13th District low-income and affordable housing are one of the more crucial issues affecting residents of these northern Manhattan and Bronx communities. What are your plans to address the need for low-income and affordable housing?
A. The lack of affordable housing is a problem that should have been addressed a decade ago when it became clear that Upper Manhattan, and Harlem in particular, became attractive to developers.  The issue of housing affordability is not an easy solution, but I think we need to develop new financing models to encourage construction of mixed- and low-income buildings. This is an example of where the public sector needs to tap into private sector expertise to develop models that will work. 

Q. Residents of the 13th District have been greatly affected by high unemployment rate; what are some steps you will take to bring more jobs and economic opportunities to these communities?
A. I have a specific plan on how I would create thousands of jobs in the District visit www.clyde2012.com for more details. An example is tourism. Getting tourists to stay in this community for 3-4 days rather than just 3-4 hours would generate millions in revenue and thousands of stable jobs. Building hotels and creating an infrastructure to support this industry would create ancillary jobs and drive traffic to local businesses. That's just one example of what we can do with focused effort.
Another example is developing multilingual call centers Uptown. There are over 600,000 residents in this District the many of who are multilingual. The diversity in the language offers an opportunity to leverage the growing demand for these call centers.
A third critical focus is on small business growth. Small businesses are the primary employer for residents of the District, over 60%. In 2001 when I came here with President Clinton, I created the Harlem Small Business Initiative. It was designed to help small businesses with everything from developing a business plan to access to capital, to managing their books – and could be scaled further in this community too.
Q. A problem that occurs often in the communities of the 13th district is that of police harassment. Young men of color are often stopped and frisked without just cause. How will you help to improve relations between law enforcement and residents?
A. I am opposed to Stop and Frisk. It consumes significant resources and undermines the necessary collaboration between the police and community to fight crime successfully. While crime nationwide and in New York City is at historic lows, the fiscal and social consequences of over-incarceration are obvious. But I also believe we need to do more about gun control.  As a member of Congress, I would focus on re-energizing the debate about gun show and database that serve as a catalyst for increased crime in urban areas like NYC.
Q. Considering the great number of immigrants that reside in the district, immigration policy and laws are widely debated topics. Where do you stand in the regards to the current administration's stand on immigration? Are there any current policies up before the senate that you would help to push forward?
A. I supported the President's recent action to implement portions of the Dream Act by Executive Order, but believe a durable and comprehensive solution to the immigration issue is necessary.  In addition to pushing for immigration legislation, I would also focus on measures within existing law promoting the visa program that gives green cards to investors who create jobs in our community; expanding use of the practical training visas; and ramping up initiatives to offer pro-bono legal services to District residents.
Q. What sets you apart from all the other candidates that will be on the ballot on June 26th?
A. I am fundamentally different than the incumbent or other challengers in this race.  I am the only candidate who has worked for two Presidents. I have detailed and tangible plans for addressing the critical issues facing this community – and can hit the ground running on Day 1. But perhaps most importantly, I am not a career politician focused on protecting incumbency rather than solving problems. Voters are frustrated with the dysfunction of our political system from Albany to Washington.  The only way to change what we all find frustrating about 'politics as usual' is to usher in new leaders – like me.
Q. There are a great number of artists, of various disciplines, who reside in the district. In what ways would you support the arts and culture? Would you support the creation of a community and arts center in the district?
A. I am a strong supporter of the arts, and this community not only has a tremendous historical legacy tied to the arts, but is a locus for incredible energy and creativity today.  I have often said that one of the shortcomings of Congressman Rangel is that he is insufficiently aggressive in pushing for Federal funds for the District.  A perfect example is arts education.  Over the last 2 years, the Department of Education had over $20 million allocated to fund arts in education in urban schools, for which Rep. Rangel did not even compete. Further, the cultural arts should be the major lynchpin of an Upper Manhattan tourism strategy, given the unique legacy Uptown and in the Bronx.
Q. There are many parks, restaurants, and centers of recreation in the district. What are some places that you and your family like to visit?
A. I go everywhere. I've lived in this community for years. This is where my kids call home. I like Native in Central Harlem, Apt 78 in the Heights, Camaradas in East Harlem and now I'm exploring more places in the Bronx.
Check out: http://clyde2012.com/
Related: The Winds of Change are blowing through Uptown!
We invite you to like our Facebook page and follow us on Twitter, or e-mail us at [email protected].