Story and photos by Sandra E. García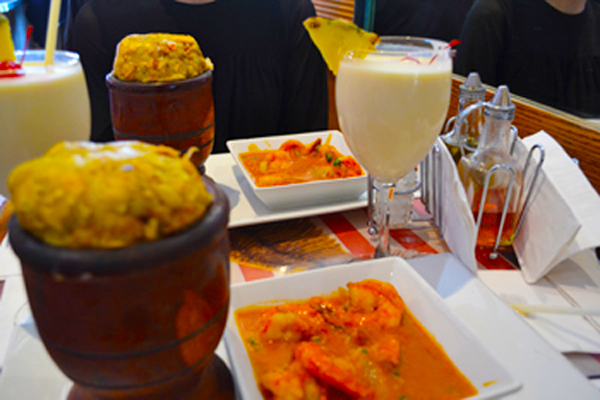 It's never the wrong time to revisit a beloved favorite – particularly at lunchtime.
Piled up high, mashed up right, a mofongo is a feast for the gods.
And an excellent meal for the rest of us.
The hallmark mashed plaintain dish which is dense and chewy, is typically studded with crunchy bits of chicharron, or fried pork bits.
And that's just the classic version.
To this base is often added a "side dish" that is anything but, given its volume, and includes your selection of meats, including chicken or steak, or seafood.
You may also add cheese, or vegetables.
Whatever your particular favorite, the combination makes for delicious mish-mash of crunchy, soft and salty flavors all at once.
At Ramon's Seafood, positioned at the corner of Dyckman and Broadway like a beacon, mofongo is a specialty.
There, the choices seem endless.
For the adventurous, there is even a "Viagra" mofongo, one that is packed with a variety of seafood, including shrimp, lobster, and crab.
Read more: Un delicioso clásico that never goes out of style | Manhattan Times
Check out:
A casserole? A lasagna? Ah, yaroa! | Manhattan Times
DR Travelogue: The Magnificent Mangu
I Love Platanos – An Ode to Platanos
Briana's Pics of the Platano Fest
We invite you to like our Facebook page and follow us on Twitter, or e-mail us at UptownCollective@gmail.com.