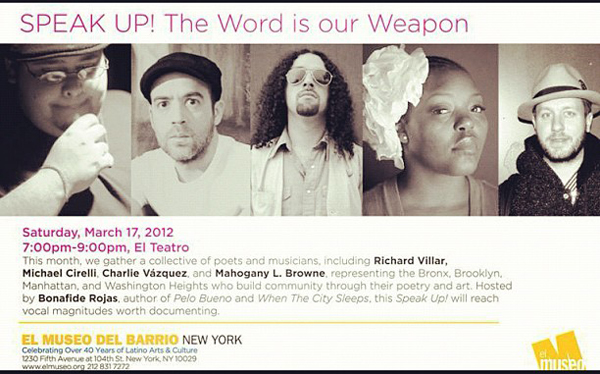 Saturday, March 17, 2012
7:00 pm – 9:00 pm
El Café (1230 5th Ave)
Admission: Free
This month, El Museo gathers a collective of poets and musicians, including Richard Villar, Michael Cirelli, Charlie Vázquez, and Mahogany L. Browne, representing the Bronx, Brooklyn, Manhattan, and Washington Heights who build community through their poetry and art. Hosted by our good friend and super talented Bonafide Rojas, author of Pelo Bueno and When The City Sleeps, this Speak Up! will be a must attend event.
Click here for more info.
Check out: Q&A With Bonafide Rojas
We invite you to like our Facebook page and follow us on Twitter, or e-mail us at [email protected].
[subscribe2]