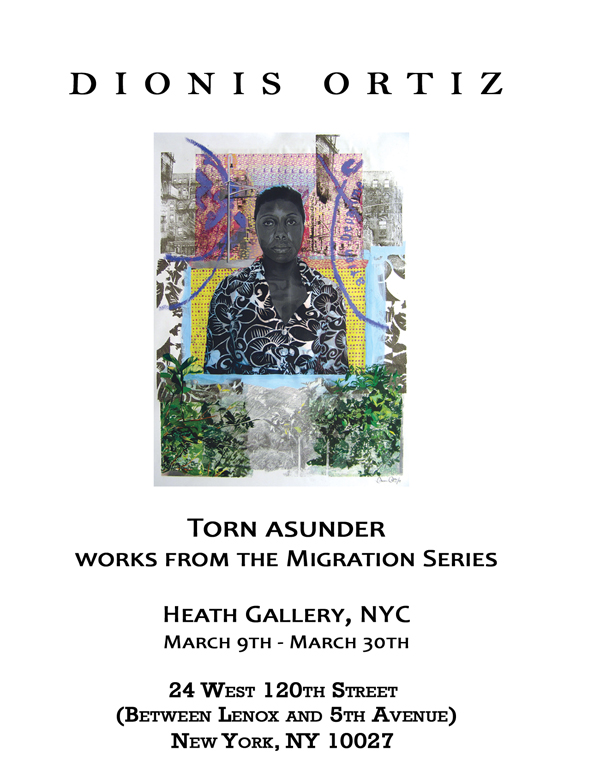 "TORN ASUNDER: WORKS FROM THE MIGRATION SERIES"

On View: March 9 – 30, 2012
Opening Reception: Friday, March 9, 6-9pm
Heath Gallery (24 West 120th Street)
Born in Harlem to immigrant parents, artist Dionis Ortiz never thought of the different aspects of his identity as mutually exclusive. But to Americans, he was Dominican. To Dominicans, he was Americano. And in the midst of that, neither group was comfortable with his attraction to African and African-American culture. In his new solo exhibition, Ortiz breaks out of the box he is often placed into by exploring the dual identity that exists within him. Torn Asunder: Works from the Migration Series will be on view at Heath Gallery (24 West 120th Street) from March 9 – 30, 2012.
Torn Asunder will feature ten, vibrant multi-media works on paper and canvas. A nod to a passage in "The Souls of Black Folk," a treatise by W.E.B. Dubois, Ortiz plays with the idea of double consciousness. By merging urban and rural landscapes, he evokes passage, movement, journey and exodus from the Dominican Republic to the bustling streets of his Harlem neighborhood. Patterns and symbols from Ortiz's memory and imagination litter the works "Identity" and "Lost Pieces," which pay homage to his Afro-Latino roots. Self-portraits also play an extensive role in his work. In "Broadway Scene" and "Back to Your Roots," the artist appears somber and reflective as he looms languidly above palm trees and concrete. And works such as "Migration" and "Checkpoint" are more politically charged in their visual narration of the racial inequality Dominicans often faced acclimating to life in the United States.
Due to his racial ambiguity, Ortiz often found himself straddling invisible ethnic and cultural lines. "No one is quite sure where to place me," Ortiz says. "On any given day, I could be Latino. I could be black. On the surface, it might seem like an advantage because you can blend in with various communities but lurking underneath is the realization that neither of these groups are truly accepted in America."
An opening reception for Torn Asunder will be held on Friday, March 9, 2012 from 6:00-9:00pm at Heath Gallery (24 West 120th Street between Lenox and 5th Avenues). The reception is free and open to the public. For more information or to RSVP, please contact Thomas Heath at 646.327.6896.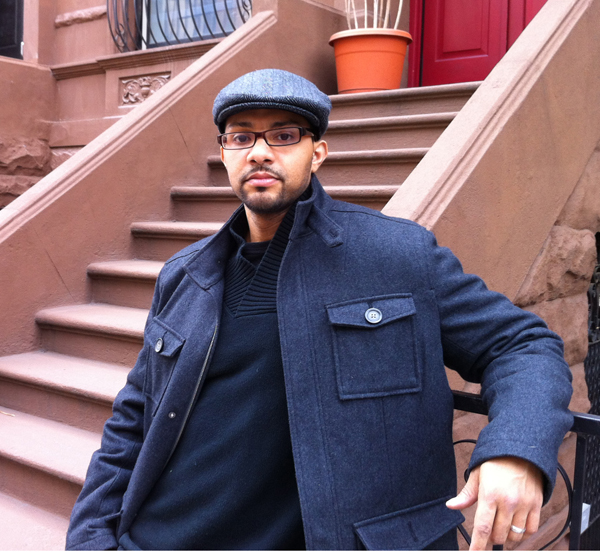 ABOUT DIONIS ORTIZ
Dionis Ortiz is a visual artist and mural designer. A Harlem-native, his work explores his dual identity as a New Yorker and a person of Dominican descent, born to immigrant parents, and visually narrates interpretations of his experiences and surroundings through the use of landscape, symbols, text, as well as various mediums and painting techniques. In 2011 he was commissioned by the Harlem River Park Fund to create an image that reflected the Central and East Harlem community, the image would then be reproduced on to etched steel plaque. In 2009, he was commissioned to create mural designs for Heineken's Mural Arts Program, and for the Addiction Research and Treatment Corporation in Brooklyn. He has received the Individual Artist grant from the Northern Manhattan Arts Alliance and the Harlem Community Arts Fund, Harlem Arts Alliance. He graduated in 2001 with a B.F.A from the State University of New York at Purchase College.
For more information, please visit www.dionisortiz.com
We invite you to like our Facebook page and follow us on Twitter, or e-mail us at [email protected].
[subscribe2]