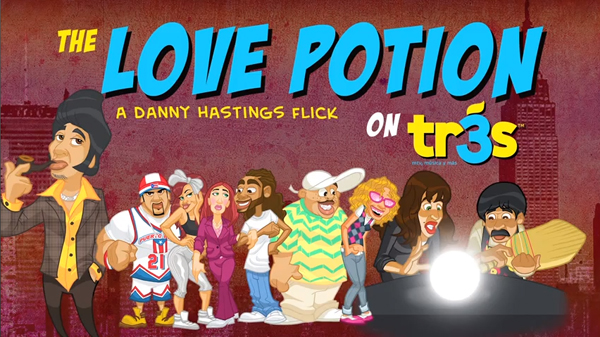 Beauty in art, entertaining people, and being true to his Latino heritage have always been Danny Hastings' artistic motivators. THE LOVE POTION, Hastings' first feature film and a romantic comedy, is the most recent example of his truths. But even more than that, it's Hastings opportunity to go beyond the Latino, urban audience that has followed him as a celebrated photographer and music video director. This time, he is bringing his expression to the mainstream, THE LOVE POTION will be broadcast on MTV Tr3s starting Feb. 10  for Valentines Day weekend.
THE LOVE POTION breaks down the five elements of Love: Lust, Intimacy, Commitment, Passion and Attachment. Each element is depicted with humor and explored from the perspective of Latino life in New York. The movie showcases four couples that range from street to sophisticated characters, who all intertwine and at some points interact with each other.
"My mission is to portray the American Latino experience with the true beauty and humanity that it deserves, while celebrating the comedy that is part of all of our lives. THE LOVE POTION is character and comedy driven, and is fueled by the talented Latino actors who perform in it," said Danny Hastings. "I am flattered that the film will be a part of such a respected institution, and I am encouraged that Latino humor is getting a platform of expression in such a public way."
Hastings wrote, directed and produced the film, and even plays two characters, alongside actors Stephanie Ortiz, Pablo Gonzalez, Michael Diaz, Jesus Gonzalez (aka Malverde), Quanzilla and Caridad de la Luz (aka La Bruja). In 2006, Hastings got his comedy start when he created and directed THE COMEDY JUMP OFF DVDs: a comedy compilation distributed by Image Entertainment.
THE LOVE POTION has been accepted by several film festivals before its National broadcast, including the prestigious New York International Latino Film Festival presented by HBO, The Friars Club Comedy Film Festival and the San Antonio Cine Festival amongst others.
For more information on the film, visit http://thelovepotionmovie.com/
We invite you to like our Facebook page and follow us on Twitter, or e-mail us at UptownCollective@gmail.com.
[subscribe2]