By NY State Senator Adriano Espaillat (@Adriano4Senate)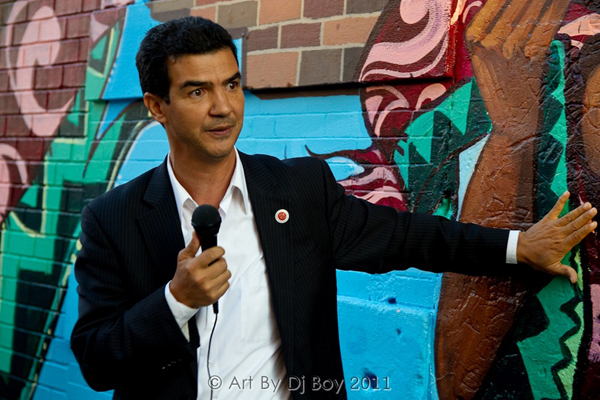 It's tempting to label 2011 as the Year of Ydanis. But it wouldn't do justice to the long, hard-fought battles he has fought – and won – on behalf of our community.
Born in the Dominican Republic, Ydanis Rodriguez has activism in his DNA. From building schools to organizing tenants to securing services for his community, there are few areas of public service Ydanis has yet to tackle.
Ydanis helped found Gregorio Luperon High School in 1992; an institution that remains a model for educating young immigrants. He fought for better conditions in Northern Manhattan's maze of apartment buildings and connected a painfully underrepresented community with much needed resources and representation.
After being elected to the New York City Council on the strength of his wide-ranging experiences as an organizer, Ydanis built on those experiences, becoming chair of the higher-education committee and an influential member of the Council. If there was a problem facing Northern Manhattan residents, Ydanis Rodriguez was there dealing with it, head on.
Ydanis courageously became the voice of the 99% during this year's Occupy Wall Street protests. Whether he was marching alongside us during the 11-mile march from 181st Street to Wall Street, or being profiled in Time Magazine's Person of the Year feature, no public official embodied and represented the plight of everyday New Yorkers fed up with economic injustice, the way Ydanis did.
Thanks to Ydanis Rodriguez and the thousands of men and women who engaged in peaceful protest to call attention to income inequality and unfair treatment of the poor and working class, we haven't simply shifted the debate; we have started making valuable progress.
Though Ydanis' lifetime of contributions to our community cannot be boiled down to one year worth of highlights. If anyone deserves to be recognized for their game-changing service in 2011, it's Council Member Ydanis Rodriguez.
NYC Council Member Ydanis Rodriguez Detained in Zuccotti Raid, Urges Mass Involvement in OWS from Democracy Now! on Vimeo.
Check out:
Uptown 2011 Movers & Shakers: Michael Diaz – The Strategist
Uptown 2011 Movers & Shakers: Mino Lora and Bob Braswell – Bringing Theater to The Heights
Uptown 2011 Movers & Shakers: Gloria Pazmiño – From Avena to Zuccotti in 12 easy months
Uptown 2011 Movers & Shakers: Jose Morales & A Year At The Apartment
The Importance of Diversity in Higher Education Leadership
Ydanis Speaks: Why Your Vote Matters
We invite you to subscribe to the Uptown Love newsletter, like our Facebook page and follow us on Twitter, or e-mail us at [email protected].