BY Led Black (@Led_Black)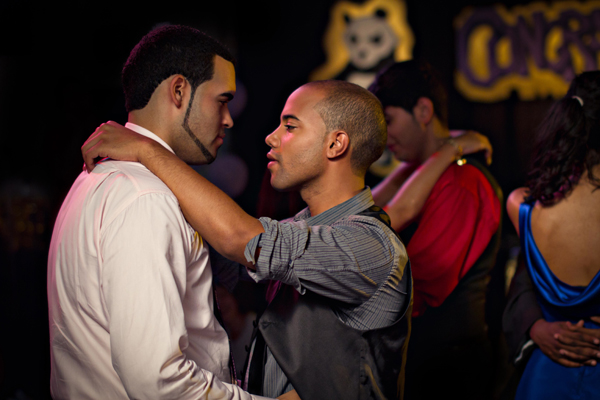 Okay folks, ever since I saw Crush during the NYILFF's Dominican Night, I have not stopped telling everyone how awesome and important this film is. Addressing the issues of homophobia, gay rights and equality with humor, style and substance, this short film does a tremendous job of pushing this crucial and long overdue conversation forward.
Crush will make its HBO debut this Friday at 7:50 pm on HBO Latino East and you can catch it again at 10:50 pm on HBO Latino West. It will also be on HBO on Demand starting on Monday, September 19th. Make sure you watch and support this ground breaking film.
By the way, the official hashtag for the movie is #CRUSHTheMovie.
On the cusp of such a monumental occasion, the creator of Crush, Dominic Colon shared with the UC his thoughts on this moment defining film.
Q. Crush is making its HBO premiere this Friday. How do you feel right now with such a momentous occasion only a few days away?
A. SURREAL. The past two months I feel like I have been living in the most beautiful whirlwind, which is loving me but kicking my ass at the same time. For those who don't know, I got to make this movie as a result of winning the HBO/New York International Short Film Script Competition. I submitted my script in late June, and on July 19th, I was notified that HBO picked my script out of hundreds of applicants that were submitted from all over the US and Latin America.
That day my team (Gloria LaMorte, the director and Joe LaMorte, my co-producer) and I began pre-production, we shot the following weekend, began post-production the following Monday and completed the film the night before the premiere at the Latino Film Festival. This week we are making our broadcast premiere, all in under than 2 months. I have learned so much in such a short time, and I am so grateful!
Q. Last time we spoke you explained that Crush was first a play that evolved to a short film.
A. In addition to being a professional actor, I also direct the Theater Company, Teatro El Puente, which travels around New York Cityperforming plays on social issues. In a playwriting workshop for the company, I wrote the one act play Crush off of which the movie is based on. We performed the play version for years but in the back of my mind I always knew it would make a great short film.
In fact, before I even heard about the competition, director/editor Sonia Gonzalez-Martinez was going to collaborate with me on the film version of Crush, when I found out about the contest, prior to submitting, I approached her to work on the film with me should we win and unfortunately she wasn't available due to a prior commitment but she told me "Dominic, you have to submit your script, you are going to win". That message when from her lips to Gods ear to HBO!!!
Both versions are similar the only real difference is that in the play the characters are more developed especially Nikkie, the female character. She has a fantastic back-story that isn't in the film. But for the contest the script had to be less than ten minutes, but hopefully you will get to see that and more when we get to do the feature length version in the future!! (God Willing)
Q. What do you think Crush will add to the conversation of equality in this country?
A. Do you really want me to answer this question we can be here all day? To put it simply, what Crush does well is that it explores things that are universal, the powers of love, and fear!!!! Everyone knows what is like to have that crush on someone. To feel something so deep that it can literally make you sick, people also know what it is like to be afraid of something, to the extent that it can either paralyze you or propel you forward. Love and fear are things that everyone has experienced, they are UNIVERSAL.
So when people see CRUSH, they can clearly identify with these characters because they realized that they have been where the main character is, regardless of sexual orientation. When people are able to see themselves in a character and identify with their journey, they will not be afraid of what that character is. That in essence is equality. We all have similar struggles and we experience them in similar ways. Society just needs to learn to recognize the beauty in the differences, and if CRUSH does ANYTHING, it does that.   This piece has always been a conversation starter and I am happy it will bring the conversation into living rooms all over the country and hopefully the world.
Q. I certainly feel that Crush is the most important short film I have ever seen. What kind of feedback have you received from those fortunate enough to have seen it already?
A. Well first of all, I have to thank you again, because your reaction to the film was so genuine and I could tell how moved you were by the piece and it is an honor to see your art can have that effect on people. The reaction to the film at the Latino Film Festival overwhelmingly positive, I attended many of the screenings and the audience always laughed, clapped and reacted, especially at Dominican Night.
Now, I have to admit, I was probably the most nervous about screening at Dominican Night, because traditionally the culture can be very reserved when it comes to homosexuality. You could feel the energy in the room that night, when they continuously erupted and applauded, you could feel the love in the room that night! It was my favorite experience of the whole festival; so Crush even taught me something, never assume how an audience is going to react!!
I was blessed to have that experience and this is only the beginning for Crush as we begin our run on HBO Latino, HBO and HBO on Demand, in addition to the film festival circuit, so please check us out on TV, check our page on facebook, www.facebook.com/crushthemovie, and spread the word about Crush to your people, your people's people, and all their people! Palante!!!
Show them FB Love: http://facebook.com/Crushthemovie
Click here for our write up on this very important short film.
We invite you to subscribe to the weekly Uptown Love newsletter, like our Facebook page and follow us on Twitter & Instagram or e-mail us at UptownCollective@gmail.com.