Photos by Cristóbal Vivar
The statue of a white doctor who performed experimental surgeries on female slaves has been removed from East Harlem.
Early on Tuesday morning, April 17, NYC Parks workers took down the Central Park statue of J. Marion Sims, considered the "Father of Gynecology."
However, Sims was known for achieving medical discoveries by performing surgeries on enslaved black women without anesthesia or consent.
The statue, located at 103rd Street near the park's northeast corner, was removed by order of Mayor Bill de Blasio, following recommendations by of the Mayoral Advisory Commission on City Art, Monuments, and Markers.
Last year, the Commission was formed to conduct a review of all city statues that could be construed as "symbols of hate."
The Sims statue was the only monument the Commission has suggested for removal.
It has been relocated to Green-Wood Cemetery in Brooklyn, site of Sims' grave.
Read more: J. Marion Sims statue removed | Manhattan Times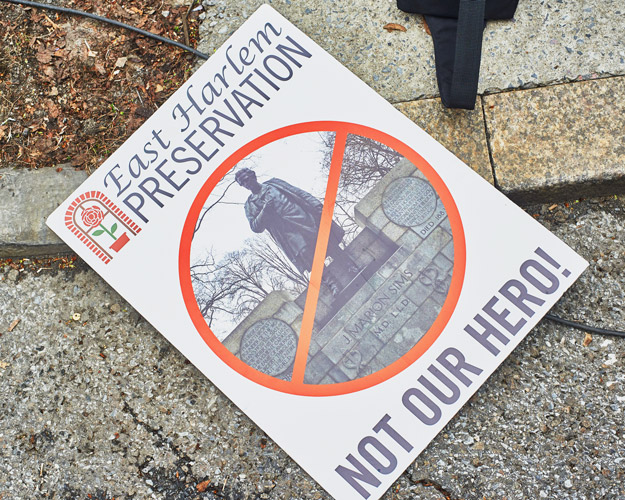 Related:
UPinion: J. Marion Sims: Keeping White Supremacy on Its Pedestal | East Harlem Preservation
Tasteless Tribute | Manhattan Times
We invite you to subscribe to the weekly Uptown Love newsletter, like our Facebook page and follow us on Twitter & Instagram or e-mail us at [email protected].