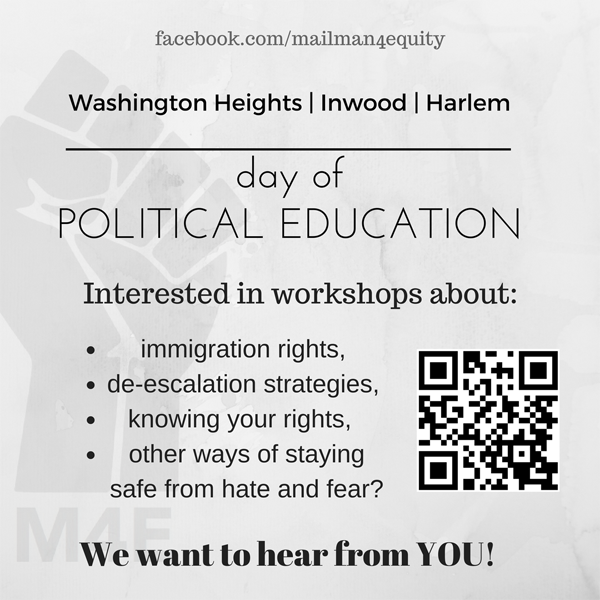 Attention residents of Uptown and Harlem:
#HealthEquity4BlackLives / Mailman for Equity is planning a day of political education in May. They want to know what types of workshops or training you would like to attend. In the age of Trump, it is critical to build skills and uplift each other as a community. Please fill out the short survey via link http://bit.ly/2nFWoqk or by scanning the QR code.
Contact the organizers via facebook.com/mailman4equity #HEq4BL #mailman4equity
#HealthEquity4BlackLives/Mailman for Equity is a collective of activist-minded graduate students of public health guided by a set of four principles: (i) silence is violence, (ii) police brutality is structural racism, (iii) environmental injustice is a violation of human rights, and (iv) racism is a public health crisis. Composed of Coalition Building, Community Engagement, Visibility, Social Justice Initiative, Social Media, and Environmental Justice Task Forces, #HealthEquity4BlackLives/Mailman for Equity actively and proactively demands accountability from our public health colleagues, institutions, and governing bodies in pursuit of health equity and intersectional justice for all.
We invite you to subscribe to the weekly Uptown Love newsletter, like our Facebook page and follow us on Twitter & Instagram or e-mail us at UptownCollective@gmail.com.