While I in no way will ever back down from proclaiming two of the BEST pizza spots in the city to be tucked away nice and neatly in the Throggs Neck area of the Bronx (Louie & Ernie's and Tommy's Pizza), there is one place in particular that stands above the rest. Pizza Palace (also known as Johnny's) up on 121 Dyckman Street has a rabid fan base and goddamn does it deserve all the love it gets. Those in the know, those up in the Heights and those who travel for good pizza will attest to the awesomeness of all the slices that are offered here. Now for me this place represents more than just pizza.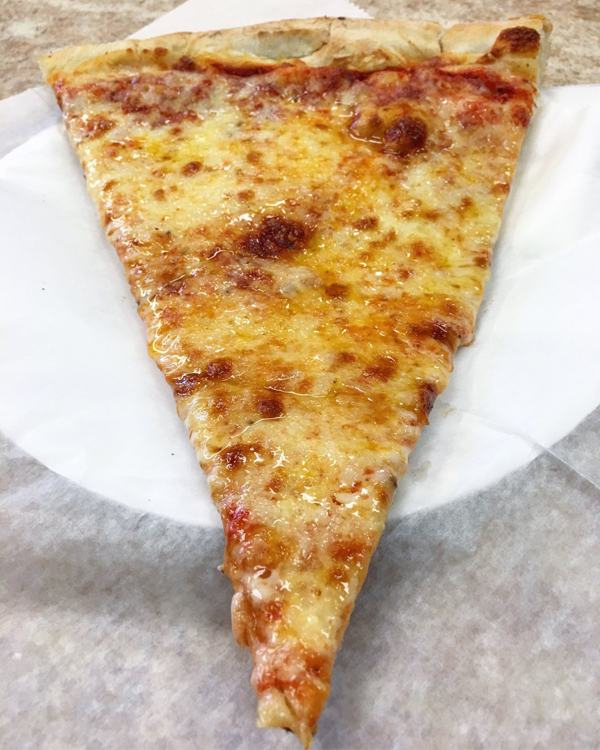 I lived a block away from this spot for 22 years of my life and it is a staple of my childhood. So many fantastic memories were made here from meeting up with my friends after school or picking up a fresh pie to have dinner with the fam. The workers here are just the nicest. Class A guys and that also can be said for the service.
What makes the pizza great? Just about everything. The sauce isn't too sweet and yet every bite has an incomparable freshness to it that I've never tasted in any other slice. Like you're biting into an actual tomato. The cheese is as ooey gooey as you would hope it would be. But what stands out for me and always has and always will is the crust. Boy oh boy, sweet Christ Almighty… the friggin' crust. Flaky and covered in the perfect amount of grease (that makes its way down towards the end with every bite you take), it's almost like an added bonus.
This place literally serves heaven in a pizza. Years ago I saw a little blurb about Pizza Palace in Time Out New York and I was thrilled it was getting some much needed exposure. I honestly cannot say enough about how delicious the pizza is at Pizza Palace. If you're serious about pizza you'd be doing yourself an insane disservice if you don't pass by here and give it a try.
Check out more at The Hungry Dominican.
Related:
Big Cheese! Inwood's John Kambouris serves top pizza, says pie maven | NY Daily News
El Lina: The Best Little Dominican Restaurant in Washington Heights
Uptown Eats: The Best Cuban Sandwich In Washington Heights…
El Malecon – A Dominican Cuisine Machine
En Tu Esquina Con Ford: Mamasushi
We invite you to subscribe to the weekly Uptown Love newsletter, like our Facebook page and follow us on Twitter & Instagram or e-mail us at UptownCollective@gmail.com.