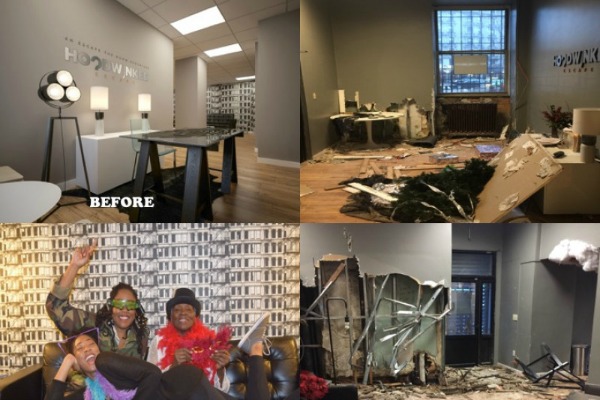 A Word From Hoodwinked
On Sunday, December 11, a fire damaged the Hoodwinked Escape building at 116th and ACP. We need your help to rebuild our game rooms for the community and all those who enjoyed an exciting adventure.  We know we can reopen with your help, better than ever, in 2017!
Hoodwinked Escape is a staple in the harlem community providing youth and adult alike a space to bond and teambuild utilizing the  escape the room concept of solving mysteries, riddles, and decoding codes in order to escape out of a locked room in 60 minutes.
Since opening our doors on December 8, 2015, we've been providing folks of all backgrounds and ages a one-of-a-kind Harlem experience. Started by single mother, accountant, and Harlemite Michele Ware, the business has quickly become a community of its own. We've been blessed with press, business partnerships, a dedicated staff of largely at risk youth, and a wealth of "Clue Finders" who were brave enough to let us trap them in a room for 60 minutes!  WABC was able to capture the essence of some of our "clue finders".
Just as we passed our one-year anniversary, with ambitious plans for January 2017, a fire struck Graham Court. Instead of hosting families during this holiday season, we've been forced to shut our doors. Our insurance covers everything but business interruption and property damage. To be able to open a new set of game rooms and launch new subsidized youth programs in January, we need additional support.
Support Here: Go Fund Me Spotlight: We Couldn't Escape the Fire
Related:
On Your Mark, Get Set, Escape…
Harlem Business Wants to Lock You in a Room and Give You an Hour to Escape | DNAinfo
We invite you to subscribe to the weekly Uptown Love newsletter, like our Facebook page and follow us on Twitter & Instagram or e-mail us at [email protected].