BY Ayisha Oglivie (@AyishaGisel)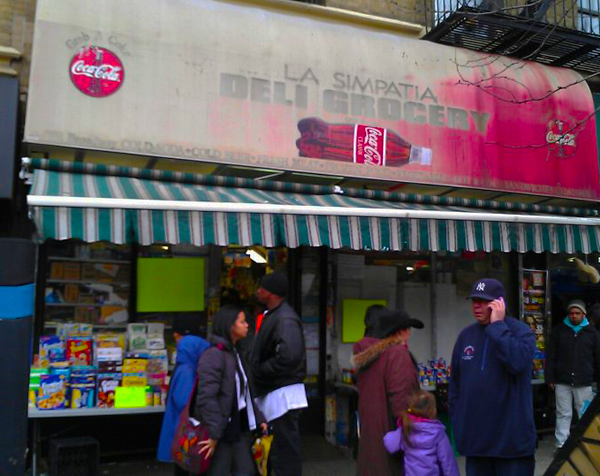 Contrary to the name printed on the awning for a local bodega, which says "La Simpatia" the landlord BLDG Management Co. is completely unsympathetic to community needs and plans to terminate the owner's lease this week. Abinader Grocery (4051 Broadway between 170th and 171st Street) is in jeopardy of being shut down this week due to the landlord jacking up it's rent significantly. Ricardo Abinader, the owner, says the bodega has been in the community for more than 50 years and owned by his family for almost 30.
Three generations of my family have patronized the community store, but I know families that have four or more generations who have depended on Abinader for their day-to-day necessities. When my mother Alma was alive she shopped there often because the nearest bodega on Haven was too expensive, charging almost double what Abinader charged and had questionable products like 2 year old expired salad dressing. In comparison, Sloan's Supermarket (now Gristedes) which was closer would have gotten 5 stars for pricing, 2 stars for service and 1 star for appropriate selections in a predominantly Latino community. She preferred to go all the way to the nearest Pathmark in Harlem before shopping at Sloan's. My shopping habits haven't varied much from that model.
Except for the fact that there are now a Bravo and Fine Fare in a 5-block radius, little has changed. As of recently after aesthetic upgrades to those two locations their prices have become as expensive and in some cases more expensive than Gristedes. From one day to the next a can of Goya beans went from $.79 to being $1.29 a can. If there is one thing I know it's that you shouldn't toy with beans in the Washington Heights community. "Chicken and rice" on the dinner table is far different from "Chicken, Rice and Beans". It isn't just the pricing of beans that have been affected. I asked Ricardo's wife who is there by his side most every night if the local markets raised their prices because of Hurricane Sandy impacts. She doesn't think so. Raising prices like that can make all the difference for families living in poverty and facing high unemployment rates such as ours.
Neighborhood landlords continue to push out good, longstanding "Mom and Pop" shops in exchange for higher rents from less caring businesses with no sense of commitment to the community. Just one block up from Abinader is a prime example of this. Two local shops were pushed out and replaced by a large Cárvel/Cinnabon location. At first I wasn't concerned. Ice Cream and pastries make everyone happy. However after not earning enough it closed its doors years ago and has sat vacant ever since. Six months ago when looking for locations for my brother Yusuf to open a PRX14 gym I learned from the realtor the rent was $14,000 a month. Not surprisingly, it still remains shut. Most people agree in our community it's hard to imagine businesses other than bars, retail chains or drug fronts that would be able to pay that kind of rent.
I learned during a business finance class recently that the profit margin of a bodega is barely 3%. Ricardo says by the time he pays rent, the property taxes, and his overhead he's dishing out almost $20,000 monthly. The King Palace chicken spot on the same block, which had customers through 4am nightly, just shut its doors after a short stint because of rent.
While writing this piece I learned of 4 other nearby closings due to high rents. This dynamic of businesses being pushed out is happening so often one can barely recognize the landscape. It is a crying shame that banks and retail chains are replacing small businesses at such an alarming rate.
Northern Manhattan used to have a diverse array of stores, but rising rents are impacting our choices and the culture of our community. The expenses, which end up being passed on to the customers, force many to go elsewhere for better selection at lower prices. And that ultimately drives commerce and jobs away. How do landlords not realize how counterproductive that is? Unfortunately most don't care because they don't live in our community. Their only concern is money and not where it comes from or the impact their choices have. For this reason government needs to regulate commercial rents for the better good of communities like Washington Heights and Inwood. Councilman Robert Jackson proposed the Small Business Survival Act in 2009 in an attempt to realize the goal of protecting businesses like the Abinader Grocery. Unfortunately, although 30 of 51 council members voiced their support, Council Speaker Christine Quinn thwarted the legislation claiming questions of legality.
Ironically, even though 30,000 Latinos have been pushed out of housing in Northern
Manhattan, in April of 2012 the Supreme Court rejected a landlords attempt to challenge the 43-year-old statute, which regulates NYC residential rents. Both NYC and NYS asked the Supreme Court to reject the case without it being heard. Governor Cuomo agreed with the Supreme Court decision stating "Rent regulations are very important to the tenants of New York." This only leaves the question of why the same line of thought doesn't apply to the commercial tenant, in this case – our local bodega owners.
Here is your call to action: There is an online petition which is short 20 needed votes so that it can be presented to the City Council and the Mayor. Sign the petition.
Click to learn how & show support: https://www.facebook.com/SaveAbinaderBodega
Our community depends on us letting our voices be heard.
Now you know!
We invite you to subscribe to the Uptown Love newsletter, like our Facebook page and follow us on Twitter, or e-mail us at [email protected].