BY Led Black (@Led_Black)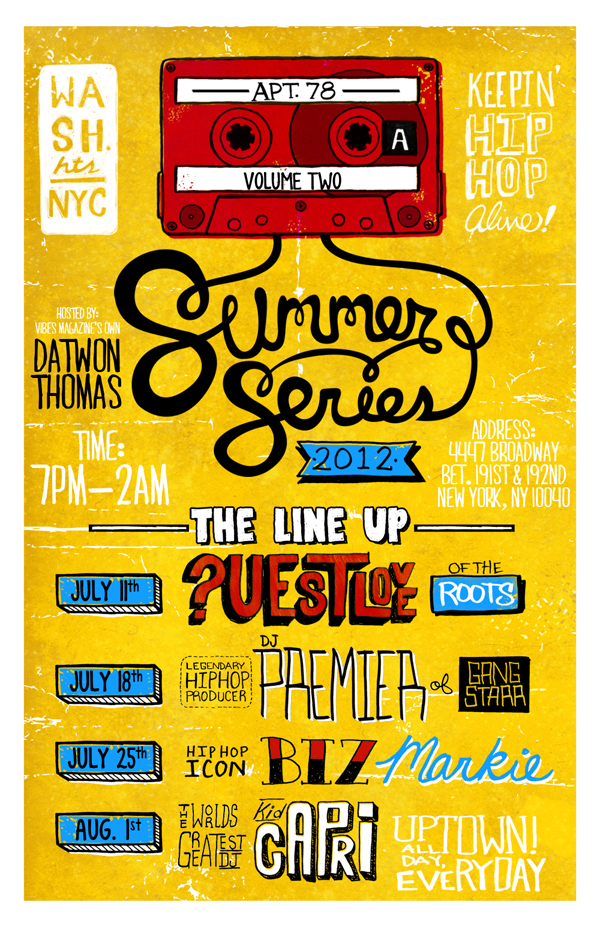 Q. Last year's summer series really changed the musical landscape Uptown. What was the motivation for this year?
A. I really just wanted to take the series to another level. The reaction to it last year was incredible; I knew then that if we could bring in next-level deejays, we could really brand Uptown as a place to experience real Hip-Hop.
Q. Why did you pick Questlove to kick off the series?
A. Well, I was lucky that he was available on July 11th, but he has such an amazing reputation in the Hip-Hop world, plus many people from the art and style worlds follow him. He was the perfect deejay to bring those crowds together and set the perfect tone for the series.
Q. You have an amazing line up. What was process for picking the DJ's?
A. I thought a lot about it, but also asked some fellow Hip-Hop heads, who would they want to see do a hot deejay set Uptown? It was a combination of that, and, of course, the deejays' availability because this is their busy season. They are doing mad dates here and in Europe, Japan, all over the world. I'm happy how it turned out – I pretty much secured my wish list.
Q. Is there a particular DJ that you are looking forward to?
A. It's hard for me to pick one favorite over the others. They each have so much history in the Hip-Hop game and have not only done their own amazing work, but all have worked with incredible artists as well. I'm just glad we could make it happen with this stellar group of music legends.
Q. Being that you grew up in the neighborhood, what makes Uptown Summers so special?
A. Oh, man, just the fact that everybody wants to be outside! People are trying to keep cool, but also are checking each other out. Women are dressing fly and looking sexy, the whole vibe is just more laid back. It's the perfect time to come to a chill spot, get your drink on and hear some great music. This is what the series is giving this summer. Uptown, baby – all day, every day!
Q. Any last words?
A. I just want people to come in peace and enjoy the music. I'm really glad we can be a part of expanding the options of music available uptown.
We invite you to like our Facebook page and follow us on Twitter, or e-mail us at [email protected].