Written by Sandra E. García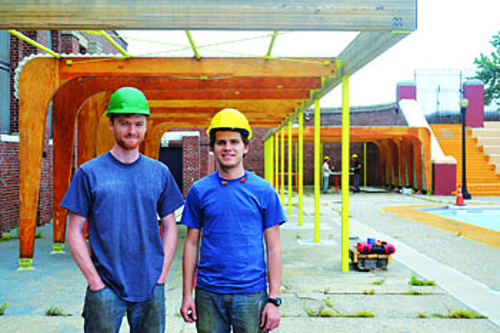 76 year-old Highbridge Pool and Recreation Center is getting a facelift.
And architecture students at Parsons' The New School For Design have taken on the makeover challenge.
Last year, Parsons students developed Splash House, a pavilion that allowed for visitors and swimmers to store their belongings and change.
As a result, valuable indoor recreation space could continue to be used by community residents year-round, rather than having it be re-purposed as locker rooms.
Over 2,400 swimmers are estimated to visit Highbridge daily in the summer months.
The pavilion was completely constructed and designed by the students, who worked as clients of the New York City Parks Department.
This year, Highbridge Park is in queue for another pick-me-up – an expansion upon its first.
2013 candidates for masters' degrees in architecture from Parsons have developed a new design that will open the front entrance of the park, modernize and create a new space that can be used year round as well.
Read more: Making waves – and a house for Splashing
Check out their Kickstarter page: http://kickstarter.com/projects/highbridge-in-flux
We invite you to like our Facebook page and follow us on Twitter, or e-mail us at UptownCollective@gmail.com.