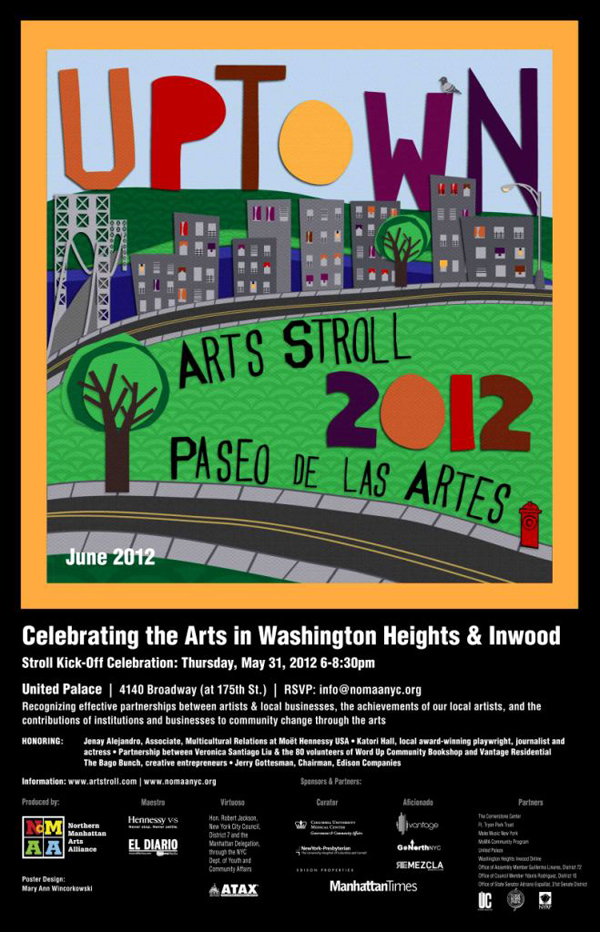 Uptown Arts Stroll Kick-Off Celebration
Opening
Thursday, May 31, 6-8:30pm
Northern Manhattan Arts Alliance (NoMAA) is pleased to announce the arrival of the 2012 Uptown Arts Stroll – Northern Manhattan's annual art festival.  For the month of June, our many artists will saturate uptown's businesses and institutions, open spaces, parks and other venues with their art.
On Thursday, May 31, 6-8:30pm we will kick off the Stroll in the two-story grand foyer of the United Palace: a majestic jewel nestled in the heart of Washington Heights at Broadway and 176th St. The United Palace welcomes the community as an open house as they work towards establishing a home for the arts uptown.
United Palace, 4140 Broadway (at 175th St.)
INFO: www.nomaanyc.org | [email protected] | 212.568.4396
Stroll Highlights include

Word Up Marathon
Fundraiser / June 7 – 16
Celebrate one year of Word Up Community Bookshop!  Be a part of 10 days of Word Up birthday celebrations.  All events below will have a sliding scale charge.  Events include special guests like Junot Diaz, activities for kids, a small press and zine fest, variety shows, film screenings and a rent party!
Word Up Community Bookshop, 4157 Broadway (at 176th St.)
INFO: www.wordupbooks.com | 347.688.4456
Hike the Heights 8: Giraffe Path
Family ~ Saturday, June 2 | 11am-3pm (Community Party at Highbridge Park)
Featuring the Giraffe Path (an installation of giraffes created by local youth and artists), Hike the Heights is an annual community event that brings families and neighbors into the parks of Northern Manhattan for hiking and a community party with arts, games, food, and active fun!  Presented by CLIMB (City Life is Moving Bodies) and CAW (Creative Arts Workshops for Kids).
Highbridge Park, Sunken Playground (Edgecombe Ave. & 167th St.)
Begin the hike at one of 7 locations: @10am: RING Garden (Dyckman & Broadway), Central Park (110th St. & Central Park W.); @10:30am: Jackie Robinson Park (148th St. & Bradhurst), Swindler Cove (Dyckman & 10th Ave.), St. Nicholas Park (135th St. & St. Nicholas), Morningside Park (118th St. & Morningside); @11am: Ft. Tryon Park (190th St. A Station & Ft. Washington Ave.)
INFO: www.hiketheheights.org
Inwood Shakespeare Festival
Theater   ~ William Shakespeare's AS YOU LIKE IT
12 Performances: Wednesday – Saturday, June 6-23 | 7:30pm
Inwood Hill Park Peninsula, 218th St. & Indian Rd.
INFO: www.inwoodshakespearefestival.com | 212.567.5255
FRACTURING PASSAGE
Public Performance Art & Intervention / Thursday, June 7 | 5:30-6:30pm
Interdisciplinary artist, Hector Canonge, and Soprano Gian-Carla Tisera explore the urban terrain as notions of beauty, transformation, and elation are evoked in an otherwise decrepit environment.
191st Street Subway Entrance Tunnel, btwn Broadway and St. Nicholas Ave.
INFO: www.hectorcanonge.net | www.giancarlatisera.com
To Be Heard
Film Screening ~ Friday, June 8 | 7-9:30pm
Screening of To Be Heard – an award winning documentary that follows three, street-wise, Bronx teens as they discover themselves through spoken word.  A tale of how language liberates and empowers each of us.  Post-screening panel with directors and characters from the film.  Surprise spoken guest artist and host.
United Palace, 4140 Broadway (at 175th St.)
INFO: www.tobeheard.org | 212.874.0807
Shorakapok: Native Americans of Northern Manhattan
Walking Tour  ~ Saturday, June 9 | 10am
The Urban Park Rangers along with Harlan Pruden, a member of the Cree Nation, will lead an interactive lecture and walk on the Lenape and other Native Peoples of Northern Manhattan. Part of the Isham Park Centennial Lecture / Walking Tour series.
Meet at Inwood Hill Nature Center, W. 218th St. peninsula in Inwood Hill Park
INFO: Pat Courtney | [email protected] | 212.569.0062
12th Annual Art in the Garden
Exhibition & Performance  ~ Saturday, June 9 | 1-5pm (Rain date Satuday, June 16)
Outdoor art exhibition with musical performances and readings by local artists including: Amaryllis León, Anna Ferreira, Carolyn Stanford, Dawn Chase, Elizabeth Popiel, Georgie Morel, Greta Herron, Gunther Bechhofer, Jerise Fogel, Kaarli Kasso, Marjorie Clarke, and Ty Cumbie.
RING (Riverside-Inwood Neighborhood Garden), at the convergence of Broadway, Dyckman St. and Riverside Dr.
INFO: Donna Deming | 917.463.4414
Open Studios
Sunday, June 10 | 1-6pm
INFO: See Open Studios Listing (p10-11)
Scandinavian Music Festival
Music ~Sundays in June (10, 17, 24) | 2pm
Performed by musicians of New York Scandia Symphony.  Dorrit Matson, Music Director and Conductor.
Ft. Tryon Park, Billings Lawn
INFO: www.nyscandia.org
Sobremesa
Potluck Picnic ~ Monday, June 11 | 6-8pm
Share your favorite dishes, poetry, tunes and ideas for strengthening the arts community uptown!  Presented by NoMAA and Ft. Tryon Park Trust.
Ft. Tryon Park, Billings Lawn overlook
INFO: www.nomaanyc.org | 212.568.4396
I © MY HOOD: A Graffiti Stroll Through Washington Heights
Art Tour ~ Saturday, June 16 | 2 & 3:30pm
Join local artist Carlos Jesus Martinez Dominguez (FEEGZ) as he leads a tour through Washington Heights focusing on the works of DISTER and other prominent local street artists, examining public street art uptown in both a historical and present-day context and its connection to the neighborhood. Presented by gogoPatience c+p.  Sponsored by Dynamic NYC Tours.  Driven tour.  Space is limited – reservation only.
RSVP: [email protected]
Inspired by… a festival of new plays out of Washington Heights
Theater  ~ June 21-24
A celebration of People's Theatre Project's 2011-2012 Resident Playwrights Unit.
·         An Alien in Inwood by Kimberly Barrante – Thursday, June 21 | 7:30pm (Festival Opening Reception: 6:30-7:30pm)
·         Waiting for the "D" by Linda Sarrello – Friday, June 22 | 7:30pm
·         On The 1 Train by Paola "Pie" Soto – Saturday, June 23 | 7:30pm
·         The Juxtaposition of Glady Ricart by Carlos Serrano – Sunday, June 24 | 2pm (Followed by a closing Garden Party: 4:30-6:30pm)
Morris-Jumel Mansion, 65 Jumel Terrace (near 162nd St. & Edgecombe Ave.)
INFO: www.PeoplesTheatreProject.org
Quatro
Dance ~ Thursday & Friday, June 21-22 | 7pm
Quatro is inspired by the 4 seasons and explores elements like snow, ice, grass, water, sun, rain, wind etc. and the effects of global warming in the world today.  Presented by Edgar Cortes Dance Theater.
The Hispanic Society of America, Audubon Terrace – Broadway bet 155th & 156th Sts.
INFO: www.EdgarCortesDanceTheater.com
ISF Opera in the Park: Don Pasquale
Concert ~ 4 Performances: Wednesday – Saturday, June 27-30 | 7:30pm
Gaetano Donizetti's comic masterpiece Don Pasquale is re-envisioned, not as an elderly bachelor, but as an older married man who would throw over his aging Signora to take the young and beautiful Norina as his "trophy wife."  Featuring Underworld Production Opera. Directed by Gina Crusco.  Presented by Moose Hall Theatre / Inwood Shakespeare Festival.
Inwood Hill Park Peninsula, 218th St. & Indian Rd.
INFO: www.inwoodshakespearefestival.com
Social Enterprise & Creative Practice 101
Seminar ~ Thursday, June 28 | 6-8pm
As many artists explore alternative ways to fund their projects, such as crowd-sourcing and bartering, many are exploring social entrepreneurship as an option. But what is "social entrepreneurship" exactly? And is it worth the hype? This seminar will explore the way social enterprise has been defined and invite participants to engage with concepts and tools they can apply to their own ventures. Case Studies will also be shared, including The Laundromat Project and Word Up Bookstore. Q & A to follow. This seminar is open to artists engaged in social change initiatives. Lead Presenter/ Facilitator: Rise Wilson, Founder, The Laundromat Project. Presented by The Laundromat Project, New York Foundation for the Arts Immigrant Artist Project and NoMAA.
Word Up Community Bookshop, 4157 Broadway (at 176th St.)
INFO: www.nomaanyc.org | 212.568.4396
NoMAA Artists' Salon
Closing Event ~ Saturday, June 30 | 3-6pm
Uptown Arts Stroll 2012 Closing Reception.  Presented by NoMAA and Remezcla.com.
INFO: www.nomaanyc.org
Visual Arts Exhibitions
Many artists exhibit their work throughout Washington Heights and Inwood during the Stroll.  Most of the venues are open during regular business hours, unless otherwise noted.
Highlights
Swindler Cove Park
Dyckman St. & Harlem River Dr.
INFO: 212.333.2552 | www.nypr.org
Temporary Art Installations  -Site specific work that address the social and ecological landscape of Northern Manhattan.
Stan Michels Promenade in Fort Tryon Park
Entrance at Margaret Corbin Circle – 190th St & Ft. Washington Ave.
Peter Bulow – Passing Glances
Subway portrait sculptures              www.peterbulow.com
NoMAA Gallery
178 Bennett Ave. (at 189th St.) – 3rd Fl.
INFO: 212.568.4396 | (Open Mon.-Fri., 11am-5pm) | www.nomaanyc.org
Uptown Arts Review©
Opening: Thursday, June 7, 6-8pm
2012 NoMAA Visual Art Grantees. Curated by Rocío Aranda-Alvarado, Curator, El Museo del Barrio.  Roundtable discussion with featured artists on Wednesday, June 20, 6pm.
Washington Heights Business Improvement District
560 W. 181st St. (at St. Nicholas Ave.)
INFO: 212.928.3400
Mike Fitelson – Message Delayed
Exhibition and photo booth: Saturday, June 2, 12-4pm during Carnaval del Boulevard, St. Nicholas Ave. between 181st and 185th Sts.On view June 3-30 at the BID –
Opening: Thursday, June 14, 6-8pm
Last year Mike Fitelson set up a photo booth during two uptown street festivals and photographed 75 people holding signs where they had written what was on their mind. The subjects were told their portraits would not be seen for one year. The nearly life-size canvas prints will be unveiled during the Carnaval del Boulevard.  Everyone is welcome to stop by the photo booth to be photographed for next year's exhibit.
www.mikefitelson.com
Morris-Jumel Mansion Museum
65 Jumel Terrace (btwn 160th & 162nd Sts.)
INFO: 212.923.8008 | Open Wed.-Sun., 10am-4pm & Mon.-Fri., by appt. | www.morrisjumel.org             (June 1 – September 9)
Inspired by Design Opening & Artist Talk: Saturday, June 23, 4-5pm
Artists Andrea Arroyo, Rita DiCaprio, Risa Hirsch Ehrlich, Felipe Galindo, Peter Hoffmeister, Camilla, Huey, Beatrice Lebreton, Trish Mayo, Tommaso Nelli and The Home Gallery of Inside Out Art interpret the history of Manhattan's oldest house and the people who lived there through the visual art forms of painting, fabric/textiles, mixed media installation, ceramics and photography.
Rio Penthouse Gallery
10 Ft. Washington Ave. (btwn 159th & 160th Sts.)
INFO: 212.568.2030 x208 www.broadwayhousing.org
Bomba! A Celebration of Sight and Sound
Opening: Sunday, June 3, 3-6pm       Paintings and works by Porto
www.studioporto.com
Uptown Arts Stroll Sponsors & Partners:
Maestro
Hennessy
El Diario – Official Spanish language newspaper of the Uptown Arts Stroll
Virtuoso
Hon. Robert Jackson, New York City Council, District 7 and the Manhattan Delegation, through the NYC Dept. of Youth and Community Affairs
ATAX
Curator
Columbia University Medical Center
NY Presbyterian Hospital
Edison Properties
Aficionado
Vantage Residential
Go North NYC
Remezcla
Partners
The Cornerstone Center
Ft. Tryon Park Trust
Hispanic Society of America
Make Music New York
MoMA Community Program
New York Restoration Project
United Palace
Uptown Collective
Washington Heights Business Improvement District
Washington Heights Inwood Online
Office of Assembly Member Guillermo Linares, District 72
Office of Council Member Ydanis Rodriguez, District 10
Office of State Senator Adriano Espaillat, 31st Senate District
For updates, visit: www.artstroll.co
Check out: The 2011 Uptown Arts Stroll: A Retrospective
We invite you to like our Facebook page and follow us on Twitter, or e-mail us at [email protected].