06/24/18: #UptownPhotoWalk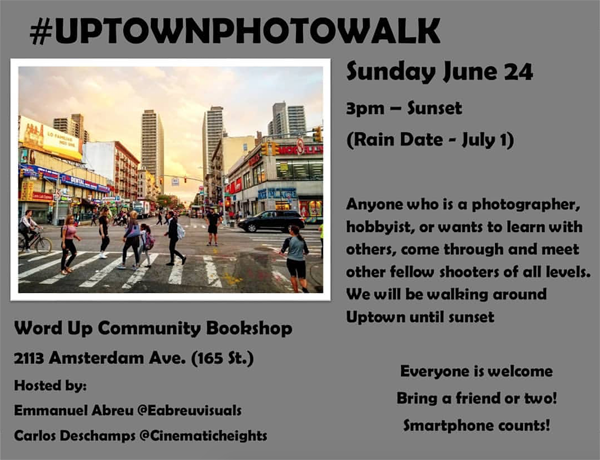 The homies Emmanuel Abreu and Carlos Deschamps are hosting another photo walk on Sunday, June 24. They are inviting one and all to join them in a photo walk around Uptown that will kick off from the indispensable Word Up Books.
We invite you to subscribe to the weekly Uptown Love newsletter, like our Facebook page and follow us on Twitter & Instagram or e-mail us at UptownCollective@gmail.com.
This entry was posted on Tuesday, June 19th, 2018 at 11:36 am and is filed under Word! and tagged with #InstagramUptown, #TheGramUptown, Arts, Carlos Deschamps, culture, Dyckman, El Barrio, Harlem, Instagram, Inwood, Photography, Photowalk, Social Media, Twitter, uptown, Uptown Collective, Uptown Manhattan, washington heights, Word Up Books. You can follow any responses to this entry through the RSS 2.0 feed.
Leave a Reply