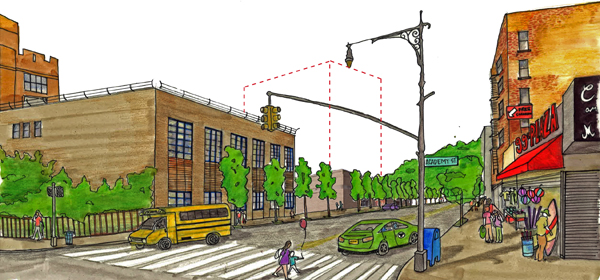 Almost a year after the city said it was moving quickly to propose a rezoning plan for Inwood, the city has yet to produce a draft scope of work describing the details of the proposal. Some believe the city put the rezoning on the backburner after community residents pushed local Councilmember Ydanis Rodriguez to say no to Sherman Plaza, a privately-initiated mixed-income development project planned for the area that would have used city subsides. The administration expressed displeasure with Rodriguez's no vote on the project, which some residents said was too tall, and others, not deeply affordable enough.
"Conversations about the Inwood Neighborhood Plan are ongoing as the city has sought to take in extensive community feedback about the best way to move forward," said Russell Murphy, a spokesperson for Rodriguez in an e-mail to City Limits. "We continue to be very interested in this process and hope that we will arrive at a plan that pleases the many who have weighed in about the needs of Inwood."
In the meantime, the Department of Housing Preservation and Development (HPD) is working with Rodriguez and the Robin Hood Foundation on another project to bring housing to the area: redeveloping the Inwood public library with 100 percent rent-restricted housing and a renovated library space of the same size. HPD held community visioning sessions for the library in January and say the feedback they received will inform a Request for Proposal (RFP) released for the site later this year. The library, which was built in the 1950s, has been renovated before, but the City says it needs further improvement.
Read more: With Inwood Rezoning Slowed, Attention Turns to Inwood Library Project | City Limits
Related:
Photo Essay: Inwood Hard at Work, Set to Change | City Limits
Aging Infrastructure an Issue in Bid to Reshape Inwood | City Limits
Dueling Protests at Meeting on East Harlem Rezoning | City Limits
We invite you to subscribe to the weekly Uptown Love newsletter, like our Facebook page and follow us on Twitter & Instagram or e-mail us at UptownCollective@gmail.com.