Read This Inwood Man's Blistering Response To Neighbor's 'Mind Your Manners' Note | Gothamist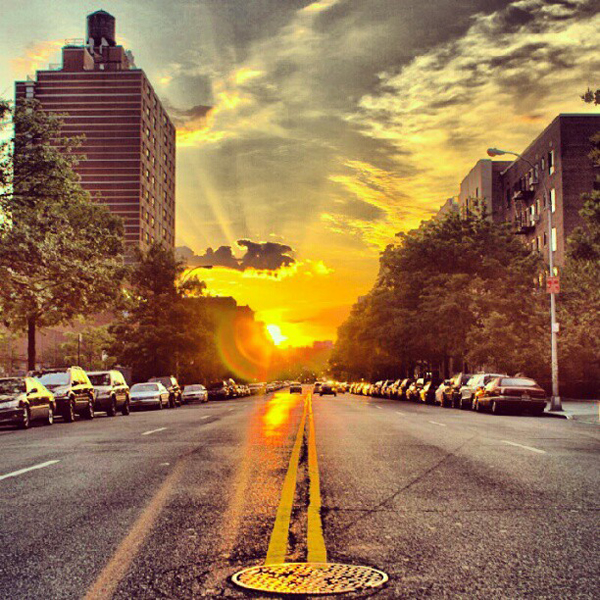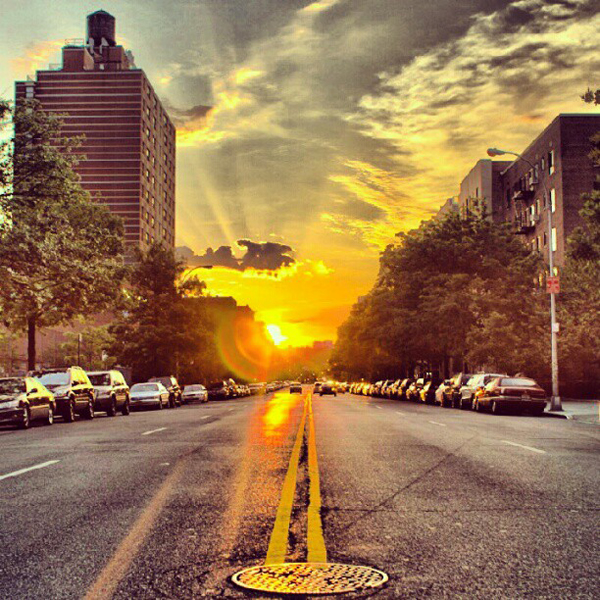 Noise disputes are not news in NYC, but every once in a while an angry tiff between neighbors catches fire in the wider world of social media, especially when the situation inflames tensions over race and gentrification. An Inwood man's impassioned letter responding to his neighbor's noise complaint has done just that, and it's lighting up Facebook brighter than the great "I don't care give me $5,500" noise complaint story of 2015.
Richard Brookshire received a note from his downstairs neighbor on Thursday morning chastising him for "scream[ing] and stomp[ing] around" late at night. It concluded: "Next time, this will go straight to the police. Please learn your manners."
Brookshire, who said in a phone interview that he is the only black tenant in his Inwood building, responded with a letter of his own, which he shared on Facebook.
"As a Black man, I take these overt actions as a direct threat to my physical and psychological well-being and as an act of violence upon me (see attached list of the 821 black men, women, and children killed by police or in police custody to date in 2016," he wrote. "This threat cannot be taken lightly."
Brookshire told Gothamist he didn't think his neighbor, who is white, understood the implications of threatening to call the police on a black man.
Read more: Read This Inwood Man's Blistering Response To Neighbor's 'Mind Your Manners' Note | Gothamist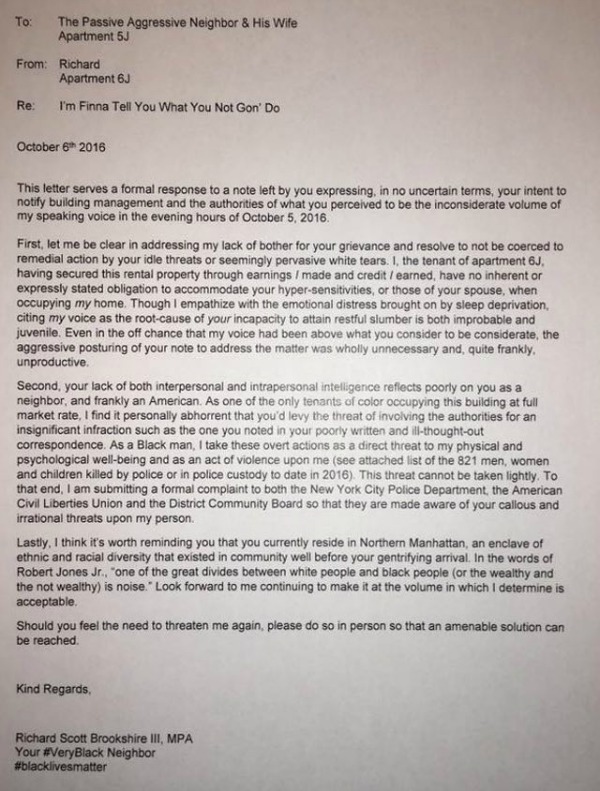 Related:
Op-Led: Borderline Racist Opinion Piece In The NY Daily News Upsets Many Uptown
The last affordable neighborhoods in Manhattan: 'The air is fresher up here' | The Guardian
A tale of two neighborhoods in Inwood | Brick Underground
Inwood Is Actually Two Neighborhoods Divided by Race, Class and Broadway | DNAinfo
We invite you to subscribe to the weekly Uptown Love newsletter, like our Facebook page and follow us on Twitter & Instagram or e-mail us at UptownCollective@gmail.com.