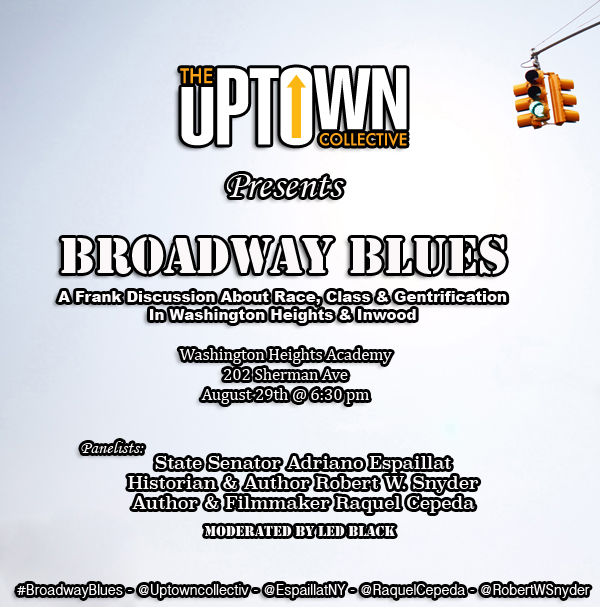 INWOOD — An upcoming panel discussion on race, class and gentrification is aiming to help prevent Northern Manhattan from becoming yet "another shiny but soulless community."
The "Broadway Blues" panel, which is taking place on Monday in the Washington Heights Academy at 202 Sherman Ave., will feature award-winning author, Raquel Cepeda, State Sen. Adriano Espaillat and director of American Studies at Rutgers-Newark University, Robert Snyder.
"I think we have a crucial, small window of opportunity to maybe change the trajectory of what's coming northward," said Led Black, editor-in-chief of the Uptown Collective, who organized the panel, adding that because there's a lot of "big money and play" happening uptown it's up to those who live in the community to get involved.
The meeting comes on the heels of a City Council committee's unanimous vote against the Sherman Plaza rezoning bid — which followed vocal opposition to the project from the community. The project, which was the first private project to apply for affordable housing under the mayor's Mandatory Inclusionary Housing (MIH) project, would have allowed developers to build an up to 17-story tall building in exchange for including additional affordable housing.
Read more: Uptown Gentrification Panel to Feature Adriano Espaillat and Others | DNAinfo
Related:
Inwood Is Actually Two Neighborhoods Divided by Race, Class and Broadway | DNAinfo
Op-Led: Borderline Racist Opinion Piece In The NY Daily News Upsets Many Uptown
Op-Led: The Crusade Against La Marina & the Dyckman Resurgence Continues
We invite you to subscribe to the weekly Uptown Love newsletter, like our Facebook page and follow us on Twitter & Instagram or e-mail us at UptownCollective@gmail.com.