And the winner is…| Manhattan Times
Story by Gregg McQueen
Additional reporting by Sherry Mazzocchi
"Don't be a trophy."
Such was the plain-spoken warning issued by the stage manager to audience members at the Richard Rodgers Theatre this past Mon., Feb. 15th.
It was imperative, he explained, that all phones be shut off and put away just before the live performance of the musical Hamilton.
If not, he warned, zealous usher Mary Ellen would come around, to claim it for her basket.
And those phones remained there. They'd not be returned or resold or repurposed.
She'd keep them – as trophies.
"So," advised the manager, "don't be a trophy."
His counsel was met with knowing laughter from the hundreds gathered at the theater in the hopes that a true trophy would soon materialize – a gold Grammy.
It was (yet another) historic night for Hamilton.
On February 15, the hip hop theater juggernaut became only the eighth musical to deliver a performance on the Grammy Awards, and the first to ever present one live from Broadway.
Held in Los Angeles that evening, the Grammy telecast switched to Broadway to present the cast performing the musical's rousing opening number, "Alexander Hamilton."
And the night was capped off in style as the musical did nab the Grammy for Best Musical Theater album, with the cast accepting the award live.
Since debuting on Broadway last August, Hamilton has become not just the hottest ticket in town, but a pop culture touchstone.
Read more: And the winner is… Ganador del Grammy | Manhattan Times News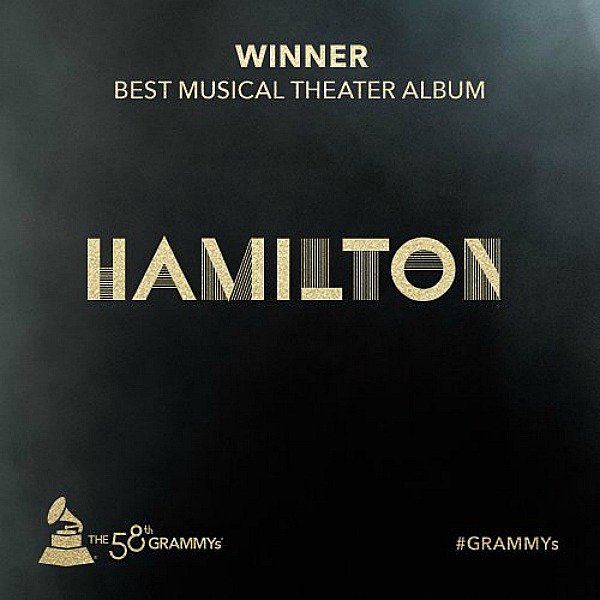 Related:
The Alexander Hamilton Mixtape
It's Official: Lin-Manuel Miranda is a Genius!
Lin-Manuel's Hamilton Headed To Broadway
Review: In 'Hamilton,' Lin-Manuel Miranda Forges Democracy Through Rap | NY Times
Rapping a Revolution: Lin-Manuel Miranda and Others From 'Hamilton' Talk History | NY Times
We invite you to subscribe to the weekly Uptown Love newsletter, like our Facebook page and follow us on Twitter, or e-mail us at UptownCollective@gmail.com.