Manhattan's Last Forest and the Nature of Cities Everywhere | Huffington Post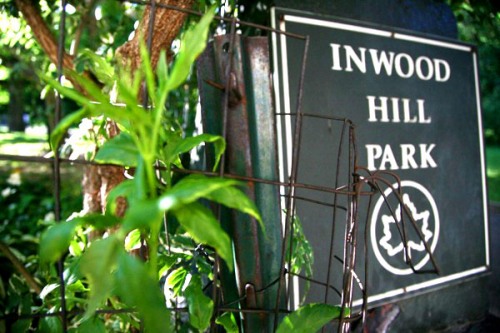 In the 1950s my grandparents moved my father and uncle out of the Bronx, New York, and into the New Jersey countryside on the other bank of the Hudson River. Growing up hearing stories from my dad about how felicitous it was to be plunked down into the open spaces and woodlands of the mid-century Jersey suburbs, I thought of New York City as a place devoid of natural areas. "The Big Apple" was to me a concrete kingdom adorned not with trees, but with towers of brick, glass, and metal.
A short time ago, this perception was firmly put to rest when Marielle Anzelone, initiator of NYC Wildflower Week and the Times Square PopUP Forest project, invited me for a walk in Inwood Hill Park. Perched along the Harlem River on the northern tip of Manhattan, Inwood Hill is the realization of the daydream in which one thinks, Imagine what it would be like if one patch of New York City had just been left alone.
The history of Inwood Hill ran deep well before Henry Hudson sailed past it in 1609, with a number of different American Indian groups using the place over millennia. Some have even claimed that it was later the site of the infamous "sale of Manhattan" to Dutch merchants in 1626. (It likely wasn't.) What can be said with confidence is that not much has happened to Inwood Hill since then, with current estimates that the forest has not been disturbed since the days of the American Revolution seeming quite likely.
As New York has grown into perhaps the globe's most famous metropolis, Inwood Hill has remained largely the same as it ever was: a verdant oasis on the edge of the city's most densely populated borough.
Read more: Manhattan's Last Forest and the Nature of Cities Everywhere | Huffington Post
Related:
A Trek Through the Timeless Treasure that is Inwood Hill Park
Park Portfolio – Inwood Hill Park
Time Travel Tuesdays: Lovely Woods, Full of Menace And a Body | NY Times
We invite you to subscribe to the weekly Uptown Love newsletter, like our Facebook page and follow us on Twitter, or e-mail us at UptownCollective@gmail.com.