By Jon Michaud
Washington Heights, the tapering neck of northern Manhattan, takes its name from our first President, who, during his soldiering days, suffered the fate of so many who have resided on that strip of land between the Harlem and Hudson rivers: he was pushed out. In Washington's case, the spur wasn't crime or gentrification but the British, who, in their efforts to subdue the rebellious colonies, had already chased the American general and his forces from Long Island.
Ownership—or at least proprietorship—of the Heights has been contested ever since Henry Hudson sailed past upper Manhattan in 1609. The native people, the Munsee, had a long-established settlement called Shorokapok (sometimes rendered as "Shorakkopch") on the eastern edge of what is now Inwood Hill Park. The displacement of the Munsee, which has since been reduced to a folk tale in which Peter Minuit "purchased" Manhattan island for sixty guilders, was, in the words of historian Robert W. Snyder, "not the last time comfortable residents of Northern Manhattan found their world turned upside down by the arrival of new people."
Snyder, a professor at Rutgers-Newark, has just published a history of the neighborhood, "Crossing Broadway: Washington Heights and the Promise of New York City." On a recent rainy morning, the author, who is a hale and stocky man in his late fifties, led me on a walking tour of some of the sites discussed in his book. We began at 550 Fort Washington Avenue, near 185th Street, which is also, in a sense, where his book began. Snyder's parents took up residence at that address as newlyweds, in 1953, and lived there for four years before moving to Dumont, New Jersey, when Snyder was still a young child. The author was raised on glowing stories about the Heights. "My parents did not leave the city during years of decay or high crime," he told me. "For them, it had no shadows."
Read more: Walking the Heights – The New Yorker.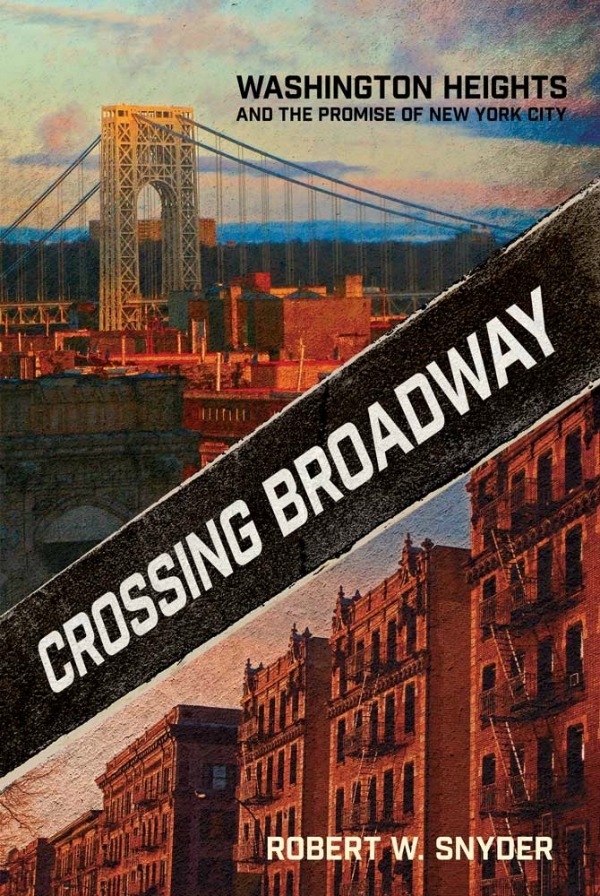 Related:
Uptown Video: The Crossing Broadway Panel @ The New School
MTV's 'Washington Heights' – A Historian's Perspective
The Washington Heights Riots of 1992 Remembered – Part 1
Uptown Video: Dyckman City Gangsters
Historic Inwood: "Goodbye to Glocamorra" (1968)
We invite you to subscribe to the weekly Uptown Love newsletter, like our Facebook page and follow us on Twitter, or e-mail us at UptownCollective@gmail.com.