Lise Funderburg, a journalist, interviewed Yael Ben-Zion, a photographer raised in Israel, about her new book, "Intermarried," published by Kehrer, which features families from the Washington Heights neighborhood where she lives with her French husband and 5-year-old twins.
Q. What inspired this project?
A. I saw an Israeli television campaign that showed faces on trees and bus stops, like missing children ads. A voice-over said, "Have you seen these people? Fifty percent of young Jewish people outside of Israel marry non-Jews. We are losing them." I happen to be married to a person who is not Jewish. And, so for me it was, "Aah, they're losing me." I'm not religious, but this campaign made me wonder more generally why people choose to live with someone who is not from their immediate social group, and what challenges they face.
Q. How did you establish your taxonomy for what qualified as mixed?
A. I wasn't going to go in the street and ask couples if they were mixed. I didn't grow up here; I didn't even know what terminology to use. But I live in a very diverse Manhattan community that has an online parent list with more than 2,000 families on it. I put up an ad saying I was looking for couples that define themselves as mixed. I said it could be different religion, ethnicity or social background. I didn't use the word race, because I wasn't sure how politically correct that was. All the couples who responded are either interfaith or interracial or both, but my goal from the beginning wasn't to create some statistical visual document. For example, I have hardly any Asian people, and I don't think there are any Muslims, and the reason is that they didn't approach me.
Read more: The Mixed Marriage – NYTimes.com.
Intermarried is now on view at La Galeria at Boricua College in Washington Heights. The artist reception will take place on Friday, January 17, 6-8pm and an artist talk moderated by the curator of the show, Gabriel de Guzman, will take place on Monday, February 3, 6-8pm.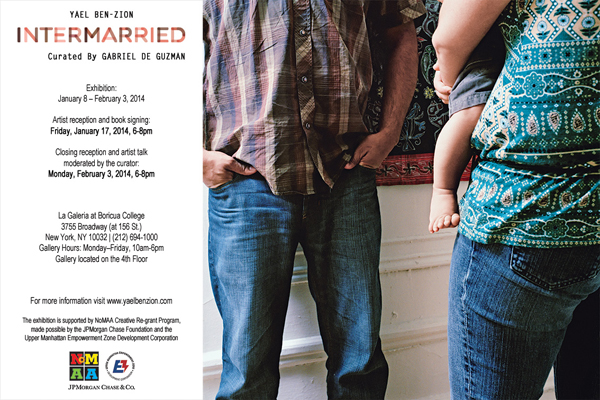 For more info: http://yaelbenzion.com/photography/
Related:
Documenting the Dwindling Number of Manhattan Bodegas | WSJ
One NY Artist: Photographer Gesche Würfel | WNYC
We invite you to subscribe to the weekly Uptown Love newsletter, like our Facebook page and follow us on Twitter, or e-mail us at UptownCollective@gmail.com.