Diary of a Dominican in…. Minnesota
Translated by Led Black (@Led_Black)
I came across this hilarious story a few years ago but apparently it has been around since 2006. It tells the tale, in Spanish, of a Dominican man who moves from the island to Minnesota. He arrives mid-summer and falls heads over heels for the place. Things quickly change once winter arrives. This piece so perfectly sums up how many Dominicans feel about the winter, the cold and the snow. I came to live in NYC when I was 5 but I still haven't completely acclimated to the frigid temps that winter brings. Not sure who the original author of the story is but it has the feel, rhythm and cadence of an old-school Dominican cuento. Enjoy!
Diary of a Dominican in…. Minnesota
August 12th:
Today I moved to my new home in the state of Minnesota. What peace – everything is so beautiful here. The mountains are so majestic. I almost can't wait to see them covered in snow. It is so great to have left behind the heat, the humidity, the traffic, the hurricanes, the strikes and the goddamn lowlifes of Santo Domingo. This is living!
October 14th:
Minnesota is the nicest place I have ever seen in my life. The leaves have changed to every tone between red and orange. It is so great having four seasons. I took a hike through the woods and saw my first deer, how beautiful. They are so agile, so elegant; they are one of the best looking animals I have ever seen. This has to be paradise. I am hoping it snows soon. This is living!
November 11th:
Soon deer hunting season will begin. I cannot imagine why a person would want to kill these creatures of God. Winter is almost here. I hope it snows soon. This is living!
December 2nd:
Last night it snowed. I awoke and found everything covered in white. It looks liked a postcard, a movie. I went out to clean the snow from the steps and shovel the front of the house. I reveled in the snow and I even had a snow fight with the neighbors (I won!). The snowplow passed by my house, which forced me to go back out and shovel. Snow is so beautiful. It resembles flowers of cotton. What a place so beautiful.
December 12th:
Last night it snowed again. I love it. The snowplow once again covered the drive way but what are you going to do? Anyway, this is living!
 December 19th:
Another night of snow. Before I could finish shoveling the driveway, the snowplow passed and buried it, forcing me to miss work. I am bit tired from all the shoveling. Goddamn snowplow! What a life?
December 22nd:
Last night, guess what, it snowed, better yet it fucking snowed. My hands have turned to shit and are full of callouses from all the shoveling. I am starting to believe that the snowplow man is watching me and waits for me to finish to drive by with his snowplow and torment my life. That son-of-a-bitch!
December 25th:
It is a White Christmas but for real because it is filled with fucking snow. This is some bullshit! If I catch that son-of-a-bitch that drives the snowplow, I swear I will murder him like a dog. I can't fathom why they don't use more salt in the streets to faster melt all this fucking snow.
December 27th:
Last night it snowed even more. I am so done with snow. It is now 3 days that I have not been able to leave the house. I only go out to shovel the snow after the passing of the snowplow. I can't go anywhere. My car is buried under a mountain of black snow that favors synthetic mud. The weatherman said that another 10 inches of snow would fall tonight. There is no luck! Goddammit!
December 27th:
The fucking weatherman was wrong once again. Instead of 10 inches of snow…we got 34 fucking inches of that shit!
I would like to shit on the mother of whoever invented this place as somewhere to live. If this shit continues, I don't think the snow will melt even in the summer. Guess what? The snowplow got stuck near my house and the driver of the snowplow came to my house to borrow a shovel. That motherfucker!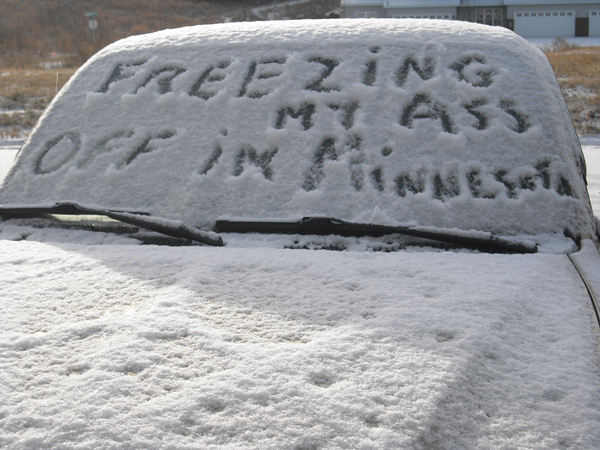 January 4th:
I was finally able to leave this goddamn house. I went to buy food and a goddamn deer jumped in from of the car and I killed it. Son-of-a-bitch! The damages to the car are going to run me about 3 thousand dollars. All these goddamned animals should be poisoned.
I wish the hunters had exterminated all of them last year. Deer hunting season should be all year long!
March 15th:
I slipped and fell on the ice that still exits in this goddamned city and I broke my leg. Last night I had a dream that I planted a coconut tree and I ate a yaniqueque filled with Dominican salami and cheese.
May 3rd:
When the cast finally came off, I had to take the car to the mechanic. He told me that the bottom of the car was completely rusted from all the goddamned salt that was used. What the hell? Is there no another form of melting snow and ice?
May 10th:
I have once again moved to Santo Domingo. This is living!
What deliciousness? Heat, humidity, traffic, hurricanes, and even the lowlifes. The truth is that whoever wants to live in Minnesota, which is so cold and lonely, is a shit-talker that has to be more insane than the very devil. This is living. What a great country we have!
See below for the original in Spanish.
DIARIO DE UN DOMINICANO EN……. MINNESOTTA:
Agosto 12:
Hoy me mudé a mi nueva casa en el estate de Minnesota. Que paz! todo es tan bonito aquí. Las montañas son tan majestuosas. Casi que no puedo esperar para verlas cubiertas de nieve. Que bueno haber dejado atrás el calor, la humedad, el tráfico, los huracanes, las huelgas y los malditos chopos de Santo Domingo. Esto sí que es vida!!.
Octubre 14:
Minnesota es el lugar más bonito que he visto en mi vida. Las hojas han pasado por todos los tonos de color entre rojo y naranja. Que bueno tener las cuatro estaciones. Salí a pasear por los bosques y por primera vez vi un ciervo, que lindo! Son tan ágiles, tan elegantes, es uno de los animales más vistosos que jamás he visto. Esto tiene que ser El paraíso. Espero que nieve pronto. Esto sí es vida!!
Noviembre 11:
Pronto comenzará la temporada de caza de ciervos. No me puedo imaginar a nadie que quiera matar una de esas criaturas de Dios. Ya llegó el invierno. Espero que nieve pronto. Esto sí que es vida!!
Diciembre 2:
Anoche nevó. Me desperté y encontré todo cubierto de una capa blanca. Parece una postal . . . una película. Salí a quitar la nieve de los escalones y a dar pala en la entrada. Me restregué en ella y luego hice una guerra de bolas de nieve con los vecinos (yo gané!). Cuando la niveladora de nieve pasó, tuve que volver a dar pala. Que bonita nieve! Parece moticas de algodón esparcidas por todos lados. Que lugar tan hermoso.
Diciembre 12:
Anoche volvió a nevar. Me encanta. La niveladora me volvió a ensuciar la entrada, pero bueno . . . que le vamos a hacer, de todas maneras, esto sí es vida.
Diciembre 19:
Anoche nevó otra vez. No pude limpiar la entrada por completo Porque antes que acabara, ya habia pasado la niveladora, así que hoy no pude ir al trabajo. Estoy un poco cansado de dar pala en esa nieve. Maldita niveladora! Que vida!
Diciembre 22:
Anoche volvió a caer nieve, o mejor dicho . . . ****** blanca. Tengo las manos hechas ****** y llenas de callos de la pala. Creo que la niveladora me acecha desde la esquina y espera a que acabe con la pala para pasar a joder. Esa hija de su maldita madre!
Diciembre 25:
Felices Navidades blancas, pero blancas de verdad, porque estan llenas de ****** blanca. Que. vaina, Coño!.. Si logro cojer al HIJO DE LA GRAN **** que maneja la niveladora, te juro que lo mato como a un perro. No entiendo porque no usan mas sal en las calles para que se derrita más rápido este maldito hielo de ******.
Diciembre 27:
Anoche todavía cayó más ****** blanca de esa que me tiene jarto, ya llevo tres días encerrado. Salgo nada más cuando tengo que dar pala en la nieve después de que pasa la niveladora. No puedo ir a ningún lugar. El carro esta enterrado bajo una montaña de nieve negra que parece lodo sintético. El noticiero dice que esta noche van a caer 10 pulgadas más de nieve. No hay suerte, coño!.
Diciembre 28:
El come****** que dio la noticia se equivocó otra vez. No cayeron 10 pulgadas de nieve…. cayeron 34 pulgadas más de esa ******!…
Me cago en la madre de quien se inventó este jodío pueblo para vivir! Si esta vaina sigue asi, la nieve no se derretira ni para el verano. Ahora resulta que la niveladora se daño cerca de aqui y el hijo de la gran **** del chofer vino a pedirme una pala. Que azaroso ese *******!
Enero 4:
Al fin hoy pude salir de la casa del diablo esta. Fuí a buscar comida Y un jodío ciervo se metió delante del carro y lo maté. Su maldita madre!!. El arreglo del carro me va a salir como en tres mil dólares. Estos animales de ****** debían ser envenenados todos.
Ojalá los cazadores hubieran acabado con ellos El año pasado. La temporada de caza debería durar el año entero, coño!.
Marzo 15
Me resbalé en El hielo que todavía hay en esta **** ciudad y me partí una pierna. Anoche soñe que sembraba una matica de coco y me comía un yaniqueque relleno de salami y queso geo.
Mayo 3:
Cuando me quitaron El yeso, llevé El carro al mecánico. Me dijo que estaba todo oxidado por debajo por culpa de la maldita sal que echaron en la calle. A quién coño se le ocurre? Es que no hay otra forma más pendeja de derretir El hielo?
Mayo 10:
Me mudé otra vez para Santo Domingo. Esto si que es vida!
Que delicia! Calor, humedad, tráfico, huracanes y ya hasta los chopos han mejorado. La verdad coño es que a cualquiera que se le ocurra vivir en esa jodia Minnesota tan solitaria y fría es un comemi…. y tiene que estar más loco quel mimitisimo diablo!. Esto si es vida! Que. paisazo tenemos !!!
Source: http://portal.reddominicana.com/
Related:
Led Black: Un Pie Aqui y Uno Alla | Huffington Post
It's Official: Washington Heights & Dominicans Are #1
We invite you to subscribe to the weekly Uptown Love newsletter, like our Facebook page and follow us on Twitter, or e-mail us at UptownCollective@gmail.com.