Save The Date: 11/13/13 – Nutcracker Inc. Presents Meet The Filmmakers @ Word Up Books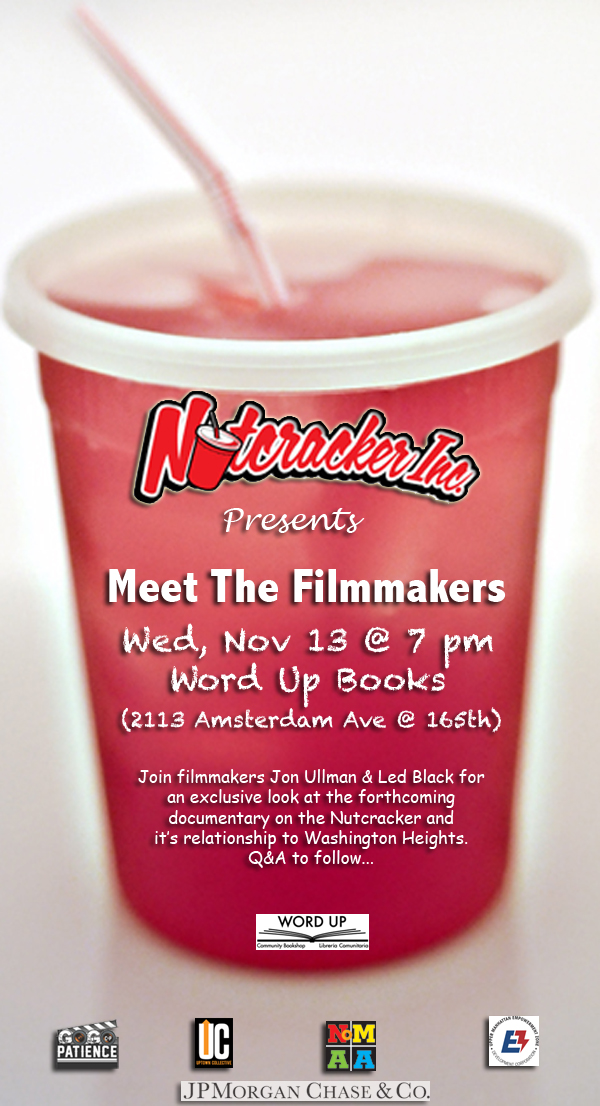 Jon Ullman and Led Black will discuss their upcoming documentary feature film, Nutcracker Inc, and preview select clips. Beverages (ahem) will be served.
The story of the enigmatic and elusive elixir known as the Nutcracker, the film not only explores the history of the illicit street drink but delves into its relationship with the Washington Heights neighborhood of New York that made it famous.
The event is free but please RSVP: https://facebook.com/events/NutcrackerInc/

(This film is partly sponsored by the NoMAA Creative Grant Program, made possible by the JPMorgan Chase Foundation and the Upper Manhattan Empowerment Zone Development Corporation)
More info: NutcrackerInc@gmail.com
Twitter: @NutcrackerInc
FB: http://www.facebook.com/NutcrackerInc
Related:
The Nutcracker: A Documentary Rich in History | Prominence
Nutcracker Drink Means Business in New Documentary | Mass Appeal
Nutcracker Awareness Day @ Le Chéile In Pictures
The Washington Heights Riots of 1992 Remembered – Part 1
The Washington Heights Riots of 1992 Remembered – Part 2
We invite you to subscribe to the weekly Uptown Love newsletter, like our Facebook page and follow us on Twitter, or e-mail us at UptownCollective@gmail.com