BY Jenni Ruiza (@RuizaJenni)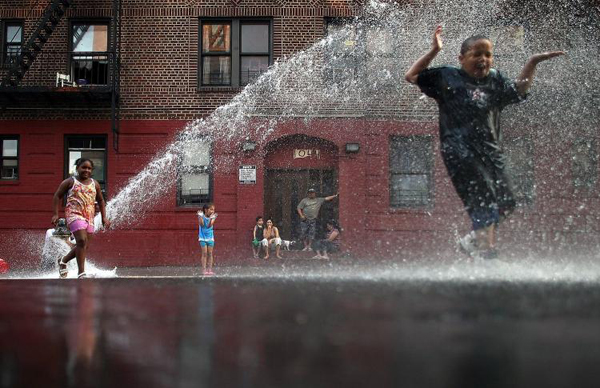 With summer in full effect, there are only a few things that will keep you refreshed in a particularly concrete-ridden jungle like the Boogie Down. The humidity has been a killer, and luckily crop tops, loose maxi skirts, and buns are in fashion all over the borough. But if you don't want to make the same mistakes as me and end up burning the hell out of your skin as if I were grilling piel from pernil (Seriously, I went from a shade of neon orange, to red, to a face full of peeling skin) then you may want to follow these 5 steps to beat the heat in the BX.
5. Peachwave [2125 Williamsbridge Rd]: It's not often you find frozen yogurt shops in the Bronx. In fact, when I was driving down Williamsbridge Road, I stumbled upon Peachwave, an adorable customizable, self-serve frozen yogurt shop. Peachwave has an assortment of flavors ranging from coconut, crème brulee, pineapple, and peanut butter ready to be topped with special items like crumbs of birthday cake, cookie dough, mocha, and your favorite fresh fruit. What better way to beat the heat than this deliciously healthy snack?
4. Avoid tight clothes: Seriously, there's nothing worse than an over-95-degree weather day and watching girls (and some guys) agonizing over their fashion-forward tight tops and jeans. It's chic and forward to wear maxi skirts, with a loose crop top. I suppose the exposure of bras is in now, too, so if you want to venture in that look – it beats being the victim of someone instagramming a photo of your sweat-drenched asscrack in your tight white jeans.
3. Visit the floating pool [Barretto Point Park]: Open until September 2nd, the infamous floating pool is in full effect! I've been to a lot of public pools in my life, and as disgusting as they may seem, venturing out to Jones Beach may not be your best bet when the floating pool at Barretto is so easily accessible. Not only is it free to enter but kayaking and canoeing are also available on site. Don't forget to bring a combination or key lock to hold your valuables.
2. Boogie Down Rides [www.boogiedownrides.org]: There's nothing worse than peeling your skin off of the bottom of a subway seat after a long, hot ride – or being shoulder to shoulder with nothing to barricade the sweat of someone's body so instead, I highly recommend cycling to your destination. Not only is it environmentally friendly, but cycling with Boogie Down Rides provides locals special events to tour such as this Saturday, July 13 with the Bronx Calling Bike Tour exploring the Grand Concourse between the Bronx Museum and Wave Hill.
1. Wear sunscreen! Okay, I'm about to share a story with you that will forever go down in my wall of shame. This past weekend I went to Pennsylvania with my best friend who convinced me to give tanning a try in a standing booth. We both signed up for the maximum amount of time, signing off on waivers (you know, just in case the artificial UVs would accidentally cause some kind of rare skin disease like Vitiligo) and picking out tanning lotions. With our fab new sun-kissed glow, we spent the rest of our day OUT IN THE SUN on Montague Mountain at a water park…sans sunscreen. If you really want to see what I ended up looking like after the double exposure to UV rays, follow me on my instagram @jennijenjenjen. Let's just say…I looked much like a lobster with puffy eyes and sharp pains in my skin. Not my proudest moment. But, that just goes to show…YOU MUST WEAR SUNSCREEN in the summer! (and not make stupid decisions like tanning before a visit to the waterpark…you live, you learn.
Find out more about Bronx contributor, Jenni Ruiza, at http://www.jenniruiza.com/. Follow her on Twitter @RuizaJenni.
Related:
The Best of the Boogie Down: Brew Coffee House
Heineken Ritmo Sonico: Zion y Lennox – The Recap
The Best of the Boogie Down: Artist Spotlight – Ohene Cornelius
The Best of the Boogie Down: Ceetay
The Best of the Boogie Down: The Kingsbridge National Ice Center (KNIC)
The Best of the Boogie Down: Artist Spotlight – Sofia Rodriguez
The Best of the Boogie Down: Artist Spotlight – Hezues R
The Best of the Boogie Down: Artist Spotlight – Christopher Estrada
The Best of the Boogie Down: Tosca Café
The Best of the Boogie Down: The Bronx Documentary Center
The Best of the Boogie Down: The Bronx Beer Hall
The Best of the Boogie Down: Artist Spotlight – Jesenia
The Best of the Boogie Down: Raine Lounge
Introducing The Best of the Boogie Down
We invite you to subscribe to the weekly Uptown Love newsletter, like our Facebook page and follow us on Twitter, or e-mail us at UptownCollective@gmail.com.