BY Dominican Pie (@DominicanPie)
"I always thought good photos were like good jokes. If you have to explain it, it just isn't that good."– Anonymous
The camera is one of the true ingenuities of mankind, its right up there with the printing press. The camera and its operator, the photographer, have allowed generations of people to see themselves and the world in a completely new way. After its inception photography quickly captured the hearts and imagination of all those who came across it. In today's day and age who doesn't own a camera? Whether a small digital camera or the one that comes built in to cell phones. A large number of people today have the ability to capture important moments or just something that catches their eye right at their fingertips. And with the popularity of programs like Photoshop and mobile applications like Instagram it seems that the general population has an ever-growing interest in photography.
So it may be hard to believe that at one point in time there were those who thought that the camera was an evil invention. There were those who believed that when a camera took someone's picture it stole their soul. Photographers were shunned, sent away, and rejected by many. This is of course no longer the case as most people are photographed on a regular basis from the moment that they are born. A photographer is an essential part of any important event or milestone. Photographers document the human condition, experience, and the world around them. If a picture speaks a thousand words then Ben Ferrari, a photographer from NYC, tells the tell tale of the city's people, places, and spaces.
Ben Ferrari grew up in Ossining, New York (most notably known as the home of the infamous Sing Sing Correctional facility). He currently has a column in GQ Magazine that focuses on the fashion and style of the men in NYC; as well as frequently covering fashion shows and events. He specializes in portraits of people and photographs of spaces, places, and objects.
Besides being a photographer Ben loves to exercise, he thinks that's really important, and he likes to socialize. It would be an injustice not to point out his most endearing quality—his sense of humor. After viewing one of his photos I said, "wow you have a really good eye." Without skipping a beat he simply replied, "actually I have two eyes and they're both good." Oh, and then there's the fact that he doesn't like to be photographed, so don't google any pictures of him, you won't find them.
I had the opportunity to interview Ben about the work that he does. This is what he had to say:
Q. What is it about photography that attracted you to it?
A. I think what first attracted me to photography was the immediacy of the medium, the energy of orchestrating a variety of elements in a moment to create something unique and beautiful. As a child, I used to use my fingers as frame lines and pretend to take pictures of my mom while she cooked, or out the window of a car. I never ever considered doing anything other than photography growing up.
Q. How long have you been a photographer?
A. I feel like I have always been a photographer. Professionally, I started when I was 17 as a photography assistant to a still life photographer on Broadway in the Photo District in NYC. At that time we shot 4×5 film of all sorts of things, had big catered lunches, shot in a huge studio, and it was all just so awesome to be a part of.
Q. You are currently a photographer for GQ magazine and have a column on their website, what is your column about?
A. My column is a street style feature that runs every two weeks on GQ.com. It shows stylish and interesting men in NYC. I love the way fashion is interpreted in a variety of ways by so many people as a vehicle for self-expression. I see it as a language and a conduit to exploring people's larger personalities. I have made so many friends and met so many interesting and kind people shooting street style.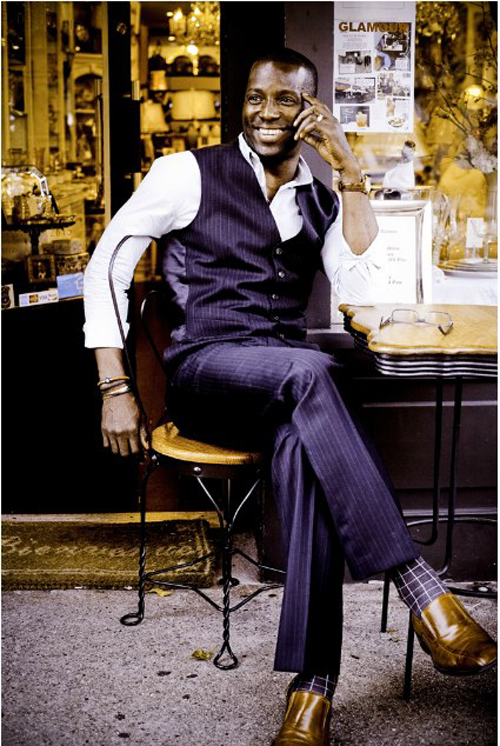 Q. Your column has focused on the men of downtown and Brooklyn correct? Would you consider doing a feature on the stylish men from Washington Heights?
A. I primarily shoot in downtown Manhattan because that's where I live. I'd totally be open to shooting Washington Heights street style. I love the Heights.
Q. Have you spent anytime in the Heights? If so, what do you think of it?
A. I've spent a lot of time in the Heights. I have several friends from the Heights. I love the energy and the neighborhood aspect. The small coffee shops and Dominican food spots. I learned Spanish just so I could learn how to order my food properly from the restaurants. You get taken care of when you order your Dominican food in Spanish Uptown.
Q. What advice would you give young photographers what want to become professional photographers like you?
A. I would say to start charging money. When you elevate yourself without needing anyone else to place you there, you take control of your destiny. I would also tell them to take lots of pictures. Photography is a great medium to commit yourself to because you are rewarded for all your time spent with it even if you don't know what you're doing. You can totally teach yourself everything you need to know technically, but your time spent physically and mentally involving yourself with the medium will yield great results. Keep plodding forward and your commitment will be rewarded, also set goals and don't stop until you reach them.
Q. Would you ever consider doing film?
A. I'm open to any other media, but right now I'm focused on stills.
To view more samples of Ben Ferrari's work or for more information please visit www.benferrari.com or go to  www.gq.com/contributors/ben-ferrari
For more information on Dominican Pie please visit her on facebook.com/dominicanpie or follow her on twitter.com/dominicanpie
We invite you to like our Facebook page and follow us on Twitter, or e-mail us at UptownCollective@gmail.com.
[subscribe2]